A fabulous motorhome journey through Scotland
I want to start by telling you that I wasn't a regular visitor of campsites, far from that. When I'm travelling through Scotland I usually stay in a Bed and Breakfast for shorter periods and a self catering cottage for longer stays. It has always suited me perfectly fine but by choosing an accommodation in one place you're bound to a certain area which makes it hard to cover large parts of Scotland within a reasonable timeframe. That's why this year my wife, our 3yr old daughter and myself decided to hire a motorhome for the first time. Our plans were to travel the entire west coast of Scotland and to include most islands, particularly the Western Isles since we had visited most other islands such as Islay, Jura, Arran and Mull before.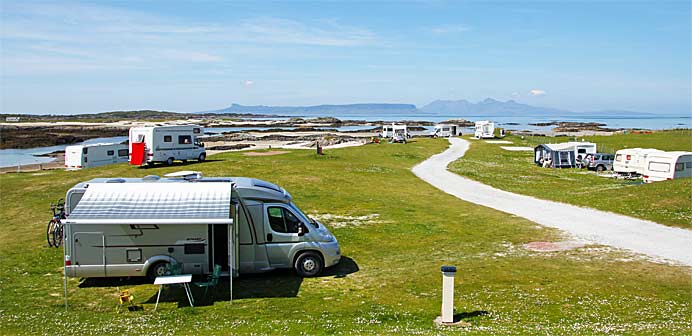 Our Motorhome (left) at Invercaimbe Caravan Site in Arisaig during the "Heatwave" in May 2012
Below are the links to our extensive travel report consisting of four sections and a separate itinerary with map, tips, links to campsites and general information. I have tried to give you the ins and outs of travelling in a motorhome through Scotland, the good, the bad and the ugly so to speak. I hope my four week beginners experience will help you if you wish to undertake a similar journey, either from Scotland or from the continent. You can use the itinerary for yourself if you have similar plans. I won't be preaching to the converted here, those who already own a motorhome and have been in Scotland know exactly what it's like, perhaps they can learn something from my experience on the various campsites we've been to.
As a general rule I think it's best to hire a motorhome in the area where you live and not in your country of destination, if possible of course. If you consider what you have to take with you for a four week trip you would have a very hard time to get that in your car and bring it over to Scotland. It's probably also better to orientate closer to home to get a feeling for the space you are travelling in, especially as a beginners like ourselves. Hiring in another country via the internet can be a bit more tricky but if you're not too precise it might work fine for you. There are by the way some excellent Motorhome Hire companies in Scotland.
Below are the links to the five individual sections: