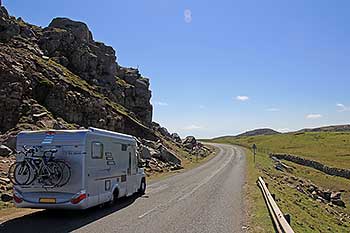 Below is the map, itinerary and general information and tips from our Scotland in a Motorhome Tour in the Spring of 2012. I have written down all the stages of the entire Route, from Gretna Green to North Berwick, the stage distances and the points of interest we have been to. There are of course much more things to see and do, as well as an incredible range of motorhome sites in Scotland to choose from, the choice is all yours.
I've also included links of the campsites and a wee impression. We were travelling with our three year old daughter so we took things easy and stayed sometimes two or even three nights on one campsite. Our original plans included the Orkney Islands and without these double nights on one campsite we probably could have made it but what's the point of having a holiday when you need to rush? Feel free to use or modify this itinerary for your own needs, I hope it can help you to plan your Motorhome Holiday together with the other information provided. If you have any questions please feel free to contact me.
Related info
Scottish Weather and Climate
When is the Best Time to Visit Scotland
Facilities on the Campsites
Please note that all the campsites listed below have facilities for taking in fresh drinking water, grey water disposal and a chemical toilet disposal point except the field in Shieldaig and the Horgabost site in South Harris who don't have facilities for Chemical Toilets. The Chemical Toilet Disposal Point in South Harris is located at the Calmac Ferry Terminal in Leverburgh.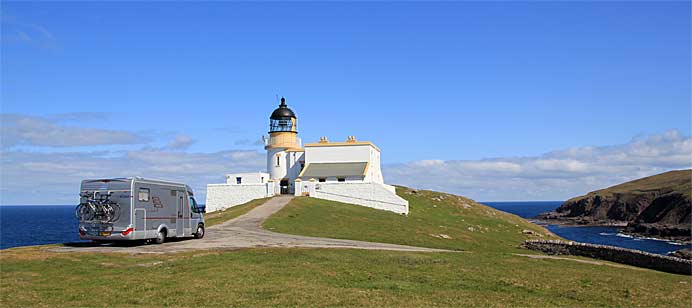 Our Motorhome parked at Stoer Lighthouse near Lochinver
Prices of the Campsites
Prices for the campsites below for one night vary from £16 to £22 including electrical hook-up. The Camping and Caravanning Club Site in Tarland charged £27 for one night, this was by the way the only site of the Camping and Caravanning Club during our tour. We could have avoided this one, there was another site nearby, or we could have become a member, fee of £40, or a temporary membership for overseas visitors for £20, and receive a discount. We choose not to, it was the final week of our holiday and besides, there are only 10 or so Club sites in Scotland from which four are close to Inverness.
Arriving at a Campsite and how to get a free Pitch
Usually when you arrive you report to reception and ask for an available pitch. It happens often that reception is closed and you have to find a pitch for yourself and report at reception later on. Be careful when you look for a free pitch because it might be taken already. Usually the owners leave their electric cable or a chair to let others now the pitch has been taken. I've also seen people who had a number plate on a wee stick to let others know the pitch had been taken. If you respect these signs and choose your pitch carefully you won't get into trouble.
Booking in advance or not?
Depending on the season you might want to book in advance. A good tip is to use an app or POI file on your navigation system, smartphone or iPad if you have one. I had a very good experience with Archies Campings who offers listings of campsites with their phone numbers and travel directions. Great when you're on the move.
We booked a site a couple of times, just to be sure we had a pitch or because we wanted to stay a few days longer. The fun however of touring in a motorhome is not knowing when you end up and you don't want to search for too long to find a campsite. So booking in advance can be a good idea, especially when the season progresses and campsites become busier.
Wild Camping
If campsites are occupied or if you rather save your money you can always go Wild Camping. It's a right you have in Scotland but there is more and more opposition against it. Quite a few parking places have signs that say "Overnight Parking is not Allowed" or other measures have been taken to make it impossible to park. But don't forget, Scotland is remote and the further north and west you go in Scotland the easier it is to find a good place to park your motorhome. If you want to know more about Wild Camping for Motorhomes in Scotland and the places where you can park for free you might be interested in the site www.wildcamping.co.uk.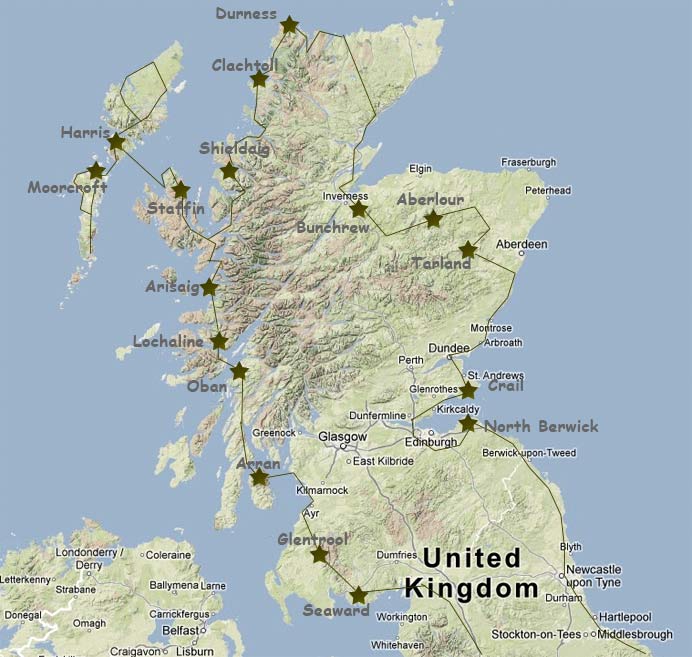 Scotland Map of Motorhome Tour including campsites and route we followed
Motorhome Itinerary Tour of Scotland – Day 1 to 25
Day 1
Route: Gretna Green to Kirkcudbright
Distance: 60 miles
Points of Interest: Dundrennan Abbey
Campsite: Seaward Campsite
Campsite impression: Good, clean, excellent for kids
Day 2
Route: Kirkcudbright to Glen Trool
Distance: 40 miles
Points of Interest: Wigtown, Newton Stuart, Galloway Forest Park, Bruce Stone
Campsite: Glentrool Camping and Caravan Site
Campsite impression: Excellent, clean, modern facilities with WiFi.
Day 3
Route: Glen Trool to Lochranza (Arran)
Distance: 70 miles & Ferry (Ardrossan to Brodick)
Points of Interest: Culzean Castle, Ayrshire Coast, Brodick, Isle of Arran
Campsite: Lochranza Caravan and Camping Site
Campsite impression: basic, clean, unsheltered
Day 4/5
Route: Isle of Arran to Oban
Distance: 70 miles & Ferry (Lochranza to Claonaig)
Points of Interest: Tarbert, Kilmartin Glen, Loch Melfort, Slate Islands
Campsite: Oban Caravan Park
Campsite impression: great, clean, beautiful pitches, perfect site, no playground for kids, close to Oban
Day 6
Route: Oban to Lochaline
Distance: 20 miles & two Ferries (Oban to Craignure & Fishnish to Lochaline)
Points of Interest: Torosay & Duart Castle, Isle of Mull Railway
Campsite: None
Day 7/8/9
Route: Lochaline to Arisaig
Distance: 60 miles
Points of Interest: Strontian, Ardnamurchan, Moydart, Glenfinnan
Campsite: Invercaimbe Caravan Site
Campsite impression: Lovely wee site, pitches next to the beach, quite busy in season, no children playground, stunning views and sunsets, unsheltered in bad weather, clean.
Day 10
Route: Arisaig to Staffin
Distance: 80 miles & Ferry (Mallaig to Armadale)
Points of Interest: Portree, Cuillin Hills, Kilt Rock, Old man of Storr, Trotternish Peninsula, Staffin
Campsite: Staffin Campsite
Campsite impression: Decent site, nothing fancy but a nice atmosphere with sheltered pitches
Day 11/12
Route: Staffin to Horgabost (Isle of Harris)
Distance: 60 miles & Ferry (Uig to Tarbert)
Points of Interest: Trotternish Peninsula, Uig, Isle of Harris, Luskentyre Beach, Isle of Lewis
Campsite: Horgabost
Campsite impression: Unmanned site, pay 10 pounds in an envelope on exit, excellent showers, no electrical hook-up, metres away from the beach and Dunes, perfect site.
Day 13/14/15
Route: Horgabost (Isle of Harris) to Carinish (North Uist)
Distance: 40 miles & Ferry (Leverburgh to Berneray)
Points of Interest: Isle of Harris, Leverburgh, Golden Road, St Clements Church in Rodel, The Isles of Uist
Campsite: Moorcroft Holidays
Campsite impression: Excellent site, perfect showers, clean, great kitchen for campers, unsheltered, busy (booking advisable)
Day 16
Route: Carinish (North Uist) to Shieldaig (Wester Ross)
Distance: 130 miles & Ferry (Lochmaddy to Uig)
Points of Interest: Isle of Skye, Wester Ross, Applecross, Kyle of Lochalsh
Campsite: Wild Camping at designated camp area in Shieldaig More info…
Campsite impression: No facilities although public toilets are close by
Day 17/18
Route: Shieldaig to Clachtoll
Distance: 140 miles
Points of Interest: Glen Torridon, Loch Maree & Beinn Eighe, Stoer Sea Stack and Lighthouse, Little Assynt Estate
Campsite: Clachtoll Beach Campsite
Campsite impression: Good facilities, clean, busy, nice beach, free WiFi, lot of pitches, great views.
Day 19
Route: Clachtoll to Durness
Distance: 55 miles
Points of Interest: Handa Nature Reserve, Kinlochbervie, Durness
Campsite: Sango Sands Oasis
Campsite impression: Good facilities, clean, rather busy, stunning views, nearby beach and shop
Day 20/21
Route: Durness to Beauly
Distance: 130 miles
Points of Interest: Crask Inn, Tongue, The A836
Campsite: Lovat Bridge Holiday Park
Campsite impression: Clean, we were the only motorhome, a bit boring, not a real campsite for tourers
Campsite2: Bunchrew Caravan Park
Campsite impression: Old showers and toilets but ok, it's a large park on the shore of Beauly Firth, great views, cheap WiFi
Day 22
Route: Beauly to Aberlour
Distance: 75 miles
Points of Interest: Inverness, Grantown on Spey, Glenlivet Estate, Speyside
Campsite1: Aberlour Gardens
Campsite impression: Perfect, clean, quiet, outstanding campsite.
Day 23
Route: Aberlour to Tarland
Distance: 30 miles
Points of Interest: The Lecht, Cargorff Castle, Balmoral Castle, Craigievar Castle
Campsite1: Tarland Campsite
Campsite impression: Clean, quiet, excellent facilities but member of "The Club" which means expensive if you're not a member.
Day 24
Route: Tarland to Crail
Distance: 110 miles
Points of Interest: Stonehaven, Dunnotar Castle, Aberdeen, St. Andrews, Arbroath
Campsite1: Sauchope Links Park
Campsite impression: Ideally situated near the sea, great views, relaxing site, good facilities.
Day 25
Route: Crail to North Berwick
Distance: 85 miles
Points of Interest: Crail, Pittenweem, Edinburgh, North Berwick
Campsite1: Tantallan Caravan Park
Campsite impression: Ideally situated close to the sea above golf links, great views, large site with almost hundred pitches, good facilities, path to the beach.