January
Burns Night Celebrations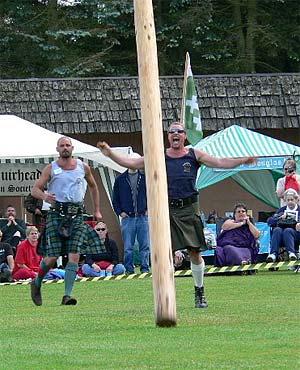 Celebrate the birth of Scotland's national bard, Robert Burns, with a traditional meal of haggis, neeps and tatties accompanied by poetry, song and a few drams at a Burns Supper anywhere in Scotland on the 25th of January. Burns Night
Up Helly Aa
Britain's biggest fire festival and torchlight procession takes place in Lerwick on the last Tuesday every January. Over 900 colourfully dressed "guisers" follow the Jarl's squad of Vikings and their longship through the darkened streets of the town to the burning site. Here the official ceremony ends in a spectacular blaze as 800 flaming torches are thrown into the galley. www.uphellyaa.org
Celtic Connections Glasgow
Celtic Connections is the largest annual winter music festival of its kind and the UK's premier celebration of Celtic music. www.celticconnections.com
February
Glasgow Film Festival
Over one hundred films will be showing over ten days at this successful new festival. Alongside its previews and premieres, gala nights and guest appearances, the Film Festival showcases a range of innovative and exciting films as well as the best from some of the world's greatest filmmakers. glasgowfilm.org
March
Glasgow Art Fair
Glasgow Art Fair has grown in stature since its inception to become one of the most prestigious contemporary art fairs in the UK, outwith London.www.gcaf.co.uk
Inverness Music Festival
Inverness Festival Association runs the Inverness Music Festival, a competitive festival, which provides opportunities for people of all ages and abilities to develop their potential in a wide range of musical events. The Festival runs each year for 10 days in March. www.invernessmusicfestival.org
Edinburgh Competition Festival
Edinburgh Competition Festival Association runs the Edinburgh Competition Festival, which provides opportunities for people of all ages and abilities to develop their potential in a wide range of musical events, not all competitive. The Festival runs each year for 10 days in March. www.ecfest.org.uk
April
Spirit of Speyside Whisky Festival
Themed on Whisky, Food, Music and the Heritage & Culture of Speyside, the Festival offers a wide array of quality events. www.spiritofspeyside.com
Edinburgh Science Festival
The Edinburgh Science Festival is an annual science festival taking place across the Easter school holidays in Edinburgh. Each year it delivers the UK's largest Science Festival with almost 270 events for families and adults over the course of two weeks. Its programmes include family days out, hands-on activities, talks and discussions. www.sciencefestival.co.uk
Dumfries and Galloway Wild Spring Festival
Welcome to the 7th Dumfries & Galloway Wild Spring festival taking place from 2nd to 18th April. This is the biggest festival ever with over 60 events. Look out for species such as geese, badgers, salmon and of course red kites! Guided walks, poetry, music and whole range of family activities are also on the programme. www.wildspringfestival.com
Beltane Fire Festival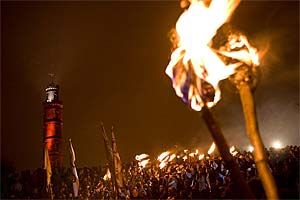 Celebrating the arrival of summer, the Beltane Fire Festival is one of the most spirited and dramatic dates on Edinburgh's events calendar, with a exuberant mix of fire, costume, drums and pagan ritual on the dramatic setting of Calton Hill. www.beltane.org
May
Scotland's Big Nature Festival
Interested in wildlife? Love the outdoors? Then join the RSPB for a wild weekend at the beautiful Levenhall Links in Musselburgh! With an extensive range of wildlife talks, workshops and activities such as bird ringing and pond dipping this annual festival has something for everyone, from keen birders to family adventurers. www.ruralprojects.co.uk
Edinburgh International Children's Festival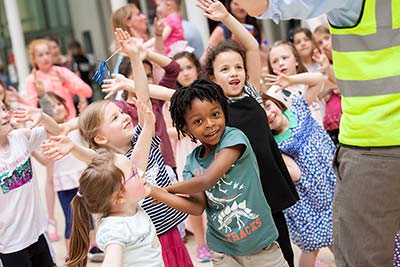 Imaginate, the organisation behind the festival, celebrates the best of children's theatre and dance from around the world by producing the Edinburgh International Children's Festival which showcases high quality, distinctive Scottish and international performances to an audience of around 10,000 children, their teachers, and their families each year. The festival is held annually at the end of May/early June. www.imaginate.org.uk/festival/
Ullapool Book Festival
A three day literary gathering in a pleasant highland town on the shores of Loch Broom. Nice balanced programme with readings, talks, workshops. www.literaryfestivals.co.uk
Melrose Music Festival
Melrose Music Festival is a flourishing annual event since 2017. The object then and now is to establish a flourishing music festival which will heighten the awareness and appreciation of music in the Scottish Borders and create opportunities for talented young musicians.www.melrosemusicfestival.co.uk
Orkney Folk Festival
From small beginnings in 1982, the Orkney Folk Festival has grown to become one of the most prolific and special throughout Scotland, the UK and further afield. The Orkney Folk Festival is held annually for four days during the end of May. www.orkneyfolkfestival.com
Islay Festival of Malt and Music
Feis Ile – the Islay Festival of Malt and Music – was founded by the local people of Islay in 1986 to celebrate the heritage and culture of Isle of Islay and to provide a pan cultural and activity based series of events. www.islayfestival.com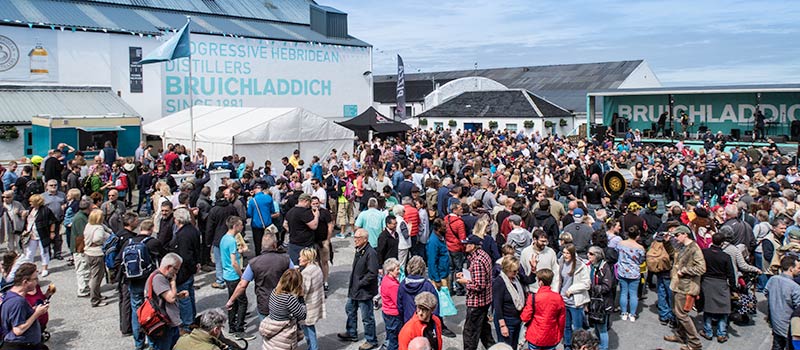 Ballater Royal Deeside Walking Festival
Explore the natural beauty of the Cairngorms surrounding Ballater with a series of guided walks. All ages and levels are welcome and with a full social calendar you are sure to have an outstanding time www.walkballater.com
June
Crail Food Festival
Taking place in the coastal village of Crail, the Crail Food Festival is a highlight of the summer festival calendar. Held over a weekend, the festival programmes a variety of food and drink based events and opportunities for producers and public alike. www.crailfoodfest.co.uk
Royal Highland Show
The Royal Highland Show is a large agricultural show that attracts over 140,000 visitors over four days in June. Highlights of the show include displays of over 5,000 animals, food and drink exhibitions, a flower show and craft goods. www.royalhighlandshow.org
Edinburgh International Film Festival
The Edinburgh International Film Festival celebrates the best in British and World cinema. Come and see some of the most entertaining, challenging and inspirational new movies around and meet the artists involved in movie-making. www.edfilmfest.org.uk
Moray Walking Festival
Walking in Scotland's Malt Whisky Country from Coast to Mountain, Moray offers a rich variety of landscapes for walkers to enjoy – and we will be packing some of the best walks into our five-day programme of activities. www.moraywalkingfestival.co.uk
Festival Fortnight – Scotland's LGBTI Sports Festival
Festival Fortnight is a two week festival, comprising a mixture of sports, cultural, academic, recreational, and social events all aimed at increasing the participation and visibility of LGBTI people in sport, and giving opportunities to discuss the issues affecting LGBTI people and wider human rights and equality issues in sport. The 2019 edition runs from June 17-30. There are events all over Scotland, from the Highlands to the Borders, and you can view them all at www.festivalfortnight.org
Wildhood Festival
Wildhood is a curated weekend of excitement and adventure for children aged 12 and under, to be enjoyed with their fun-loving families. Experience an unplugged, safe and magical festival, celebrating nature, games, folklore, history, outdoors, traditional arts & crafts, dance and music – in a fairytale setting. 2018 dates are 9th & 10th June. www.wildhoodfestival.com/
Skye Food and Drink Festival
The Skye Food & Drink Festival is a celebration of food and drink from across the Isle of Skye and the surrounding regions of the north west Highlands of Scotland. The festival showcases the stunning variety and premium quality of food and drink grown, produced and served on Skye, reflecting the heritage, culture and rich natural harvest of this unique Hebridean island. www.skyefoodanddrinkfestival.co.uk
July
T in the Park
T in the Park is Scotland's premier rock music festival. Each year over 50 thousand fans brave the unpredictable Scottish summer to take in a host of top rock artists in an open air concert held in Balado, by Kinross in July. www.tinthepark.com
Lomond Folk Festival
This traditional and folk-music festival is held annually at Balloch on the shores of beautiful Loch Lomond. Featuring sessions, singing, instrument workshops, craft fairs, street entertainment and children's show. Facebook page
HebCelt Outer Hebrides
The multi-award winning HebCelt is a unique event which is set against one of the most atmospheric backdrops, the Stornoway's Lews Castle grounds in the Scottish Hebridean island of Lewis, with its distinctive Gaelic culture and heritage. The music encompasses Celtic cultures tinged with contemporary traditional, rock, indie-folk and world influences. www.hebceltfest.com
Eilean Dorcha Festival
Eilean Dorcha Festival (EDF) is an annual music festival on the Outer Hebridean Isle of Benbecula. It is designed to have a fantastic community atmosphere and to attract and draw back both locals and tourists alike in the future. EDF is about a lot more than just the music. They will also be showcasing "Made in the Hebrides" products. These products will be available direct from the local craft producers and will show the best of what is available here in the Hebrides. www.edf.scot
Belladrum Tartan Heart Festival
The Belladrum Tartan Heart Festival is a music and arts festival, held on the beautiful Belladrum Estate near Beauly, south of Inverness. It is usually held at the end of July or beginning of August. Founded in 2004, the festival has rapidly grown in popularity. It has recently been voted UK's Most Popular Summer Music Festival. www.tartanheartfestival.co.uk
August
Killin Highland Games
Held in heart of the central highlands, in Breadalbane Park, Killin Stirlingshire, the Killin Highland Games have been popular for 25 years. There are many reasons why visitors attend. The Games offer heavyweight competitions, including the famous 'tossing the caber', highland dancing and piping competitions and a very popular amateur hill race, up the nearby Sròn a'Chlachain, as well as food and artisan stalls. www.killingames.co.uk
Royal Edinburgh Military Tattoo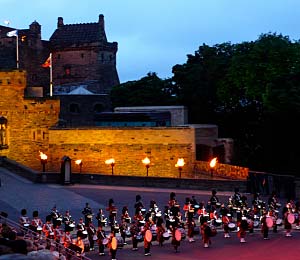 Against the backdrop of Edinburgh Castle, the world's most spectacular Tattoo will host a celebration of talent from four continents including pipers, gymnasts, singers, dancers and an amazing motorcycle display team. www.edintattoo.co.uk
Edinburgh Festival Fringe
The world's biggest celebration of the arts takes over Edinburgh for three weeks in August in a massive explosion of cultural and artistic expression. The programme is a vibrant mix of art forms – theatre, comedy, music and musicals, dance, events and exhibitions and children's shows, all attracting up-and-coming talent and established names from around the world to take part in this most famous of festivals. www.edfringe.com
Edinburgh International Festival
Each summer people visit Edinburgh from every corner of the globe and enjoy three exhilarating weeks of the very best in international opera, music, drama and dance. Although crowded, the city is a great place to visit during these weeks. www.eif.co.uk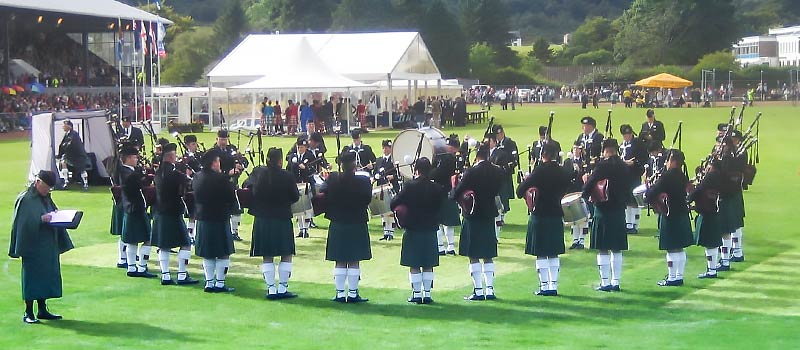 Cowal Highland Gathering
The Cowal Highland Gathering is the largest and most spectacular Highland gathering in the world. From the very first event in 1894, the Cowal Gathering has become a world famous institution and has gone from strength to strength. Cowal attracts more than 3500 competitors. www.cowalgathering.co.uk
Beyond Borders International Festival of Literature and Thought
Beyond Borders is an Edinburgh and Scottish Borders-based NGO dedicated to fostering peace and greater understanding between peoples, small nations and different cultures from around the world. Throughout the year they run a number of programmes at home and abroad, culminating in August with the Beyond Borders International Festival of Literature and Thought. For more information, visit www.beyondbordersscotland.com
Land Rover Blair Castle International Horse Trials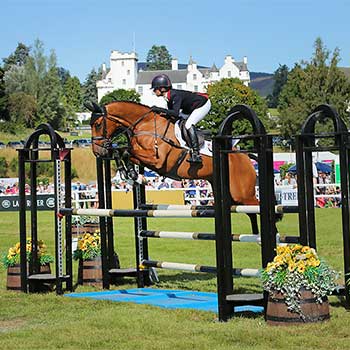 Scotland's leading equestrian event, the Land Rover Blair Castle International Horse Trials runs end of August, set at beautiful Blair Castle. Now in its 32nd year of international competition, the Land Rover Blair Castle International Horse Trials plays host to national and international calibre eventing, NPS Scotland, British Showjumping, The Highland Pony Society, Hunter and Sunday Showing competitions as well as the Pony Club Games over the course of the four days. There is truly something for everyone! www.blairhorsetrials.co.uk
September
The Braemar Gathering
Perhaps the most celebrated of all the Highland Games in the world, and the only one which guarantees the presence of a member of the royal family, the Braemar Gathering prides itself on its reputation for friendship and hospitality. www.braemargathering.org
Flavour of Shetland
The Shetland Food Fair is an annual celebration of Shetland's finest produce. Browse stalls, chat with local food producers, enjoy the samples and stock up on some of the fantastic food and drink Shetland has to offer. www.shetland.org
The Great British Food Festival @ Floors Castle
The Great British Food Festival in Floors Castle offers something for young and old. There are around 80 traders, there is live music and the setting is fabulous. Floors Castle is one of Scotland's most historic houses and, included in your food festival ticket, the gardens and grounds are open to visitors and are a delight to explore. Festival dates for 2019 are 14th – 15th Sept from 10am to 5pm. www.greatbritishfoodfestival.com/floors-castle/
Best of the West
Best of the West Festival is an 'end of season' showcase, held annually in the month of September, in the grounds of Inveraray Castle. The Festival is a two day celebration of food, drink and music that shines a light on Argyll as a prominent and world-class dining, drinking and travel destination. www.bowfest.co.uk
October
Royal National Mod
An Comunn Gàidhealach was founded in Oban in 1891. It has supported the teaching, learning and use of the Gaelic language and the study and cultivation of Gaelic literature, history, music and art for over 100 years. The annual national competitions are held in changing locations throughout the west of Scotland. www.acgmod.org
Samhuinn Fire Festival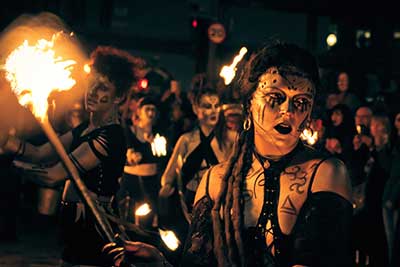 Edinburgh's most unique Halloween event returns to the capital this October with one of our biggest Winter festivals yet. Some big changes are in the air in 2018. For the first time ever Samhuinn Fire Festival marks the turn of the seasons at the top of Calton Hill. That means more space, more performers, more drummers, and MORE FIRE. The 2018 Samhuinn Fire Festival will be totally immersive as you wander between hundreds of otherworldly creatures battling it out all over the Hill. Get up close to this spectacular struggle between the seasons, brought to life by wild drumming, fire-dancing, acrobatics, and vibrant costumes.
Date: 31 October. Time: 7pm-11pm. Tickets: £6 + booking fee in advance, £9 + booking fee on day.
www.beltane.org/samhuinn-fire-festival-2018/
November
Glasgow Whisky Festival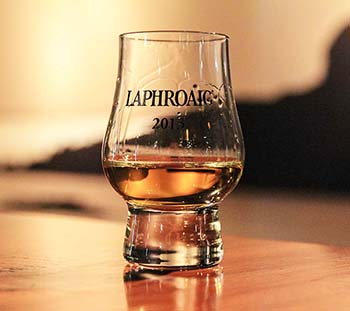 Glasgow Whisky Festival brings all the very best Scotch whisky to one event for the enthusiast and the novice alike. With expert advice on hand and the chance to learn about whisky basics, Whisky Live Glasgow offers the ultimate whisky experience with varied tastings, masterclasses, live music and regular nose-off competitions. http://glasgowswhiskyfestival.com
EH6 Festival, Leith Edinburgh
A live music, food and drink festival in Leith. The festival features over 150 bands in more than 10 different venues in Leith and is designed so that people travel throughout the whole of Leith stopping at various business throughout the whole weekend and seeing the best of Leith. www.eh6music.com
December
Edinburgh Hogmanay
Four fabulous days and nights of amazing events kick off the world's greatest New Year party. With the traditional torchlit procession, street performers, fireworks, concerts, ceilidh, the big Hogmanay party itself and a New Year's Day run to blow the cobwebs away. www.edinburghshogmanay.com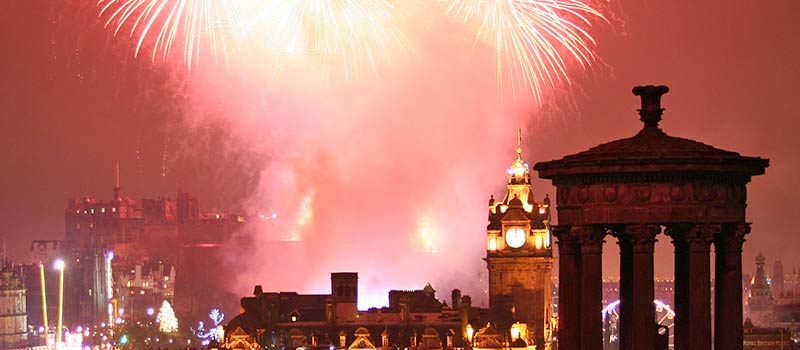 What's on in Scotland right now?
The links below give access to the most important Event Calendars in Scotland with listings of all the current events taking place today and those planned in the next weeks and months.
Glasgow – Edinburgh – Dundee – Aberdeen – Inverness – Stirling – Perth – Oban – Scottish Borders – Argyll and Bute – Loch Lomond and Area – The Highlands – Outer Hebrides – Orkney – Speyside