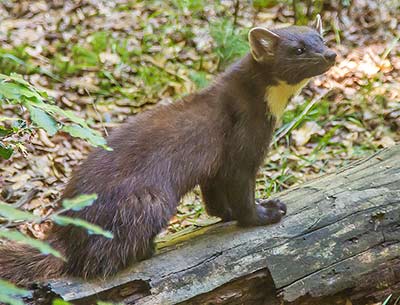 Pine Martens In Scotland are a very elusive animal and one of Scotland's best loved creatures, so what do we know about them?
The Pine Marten are about the size of a domestic cat and belongs to the weasel family, with long bodies and a dark brown fur blending into a cream coloured throat, they have fairly large eyes and protruding round ears.
They are very good climbers with an excellent grip from their strong claws, with a bushed tail ideal for balancing during difficult climbs. They can jump very well from tree to tree with a very acrobatic style almost looking like they are flying. They have excellent grip during icy conditions due to having fine hairs on the soles of their feet, and they have a typical weasel style run as they jump along the ground rather than the usual typical walk like other local mammals.
Pine Martens Habitat
Pine Martens live in woody areas of native Scots pines and other mixed forests, they have also been known to live in Rocky hillside areas. They are very defensive of the areas they live, and leave droppings on rocks and other prominent objects where they can be easily seen by intruders. They can live in self made nests between rocks and even live in Squirrels and birds nests and can be also seen living in the hollows of trees. After breeding they give birth in April and have up to five young.
What do Pine Martens Eat
Pine Martens have excellent eyesight and exceptional hearing with a very good sense of smell that gives them the ability to find prey. They hunt alone and are very independent animals that hunt at night time whilst resting during the daylight hours. They prey on small mammals consisting of Rabbits, Mice, Birds, Voles and also hunt for frogs and insects. They can be seen at times chasing Squirrels and birds throughout the tree tops and also steal young birds from nests, when live prey is scarce they will eat local berries and fruit. Many people can attract Pine Martens to their bird tables by leaving Jam sandwiches for what they have a strong attraction for, in fact they can't resist them.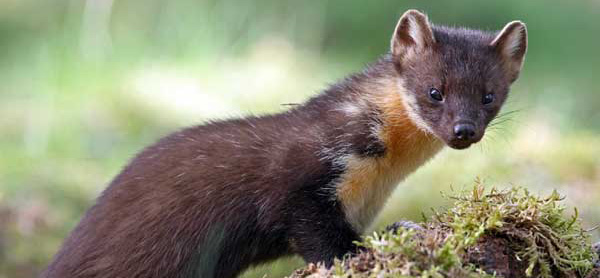 Why Are Pine Martens Rare
The main predator against Pine Martens is in fact Humans but in the wild they are occasionally hunted by the Scottish Wildcat, Golden Eagles and Foxes. The Pine Marten in Scotland was almost extinct in the nineteenth century due to farmers and gamekeepers trapping them because they fed on the lands game birds. They were also captured and killed for their fur to export across to Europe. The destruction of many of Scotland's forests and natural habitats are another reason why Scotland's Pine Martens have become rare today, the loss of these forest habitats have had such an impact on not just the Pine Marten but also many of the other animals and plants that once thrived in our great forests.
The Future of the Pine Marten in Scotland
The Pine Martens in Scotland are now on an increase today and are now seen more often in many areas, and in 1988 it was made illegal to kill Pine Martens. Successful re-planting of these many forest and the conservation efforts of land owners and many other groups have also helped increase the amount of Pine Martens in Scotland today and many areas have also had the animal reintroduced with some success.
So it's looking better for the Pine Marten now and hopefully if you are lucky enough you may see one when on Holiday in Scotland.
Some Nice Pine Marten filming in Scotland