Day 21 – Beauly, Bunchrew and Glen Affric
After our return from the far north of Scotland we were back in the central Highlands on the 21st day of our holiday and it was quite a shock to be honest, it was a return to the hustle and bustle of civilisation after our weeks in the remote west and north, at least that was how if felt by us. Thankfully even this part of Scotland is quiet by all means.
After the rain of the previous day and night the weather looked promising so we decided to visit Glen Affric. It was a lovely 30 mile drive over the A831 and we stopped to have a look at Struy Church before we reached Cannich. Glen Affric is one of the most beautiful glens in Scotland according to many and for a large part we share their opinion but if you only stay on the road, especially when you've just entered the glen, you hardly see anything of the surrounding area due to the fact that you're driving between the beautiful Birch trees. Halfway the glen the views get better and you get to see the surrounding hills. There are several smaller parking places where you have access to the river and to a few wee islets. At the end of the road is a large parking place, here you can buy a parking ticket and go for a walk on the two trails or start one of the longer walks up the glen. We did a wee walk up to the viewpoint which was very beautiful, the views are magnificent and despite the annoying midges very much worth seeing.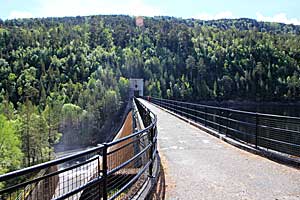 A great feature of Glen Affric are the beautiful Scots Pines along the river bank and further down the glen and up on the hills, they are remains of the ancient Caledonian Forest. The beautifully shaped trees reminded me of the Beinn Eighe Nature Reserve in Wester Ross. Water is another interesting thing in Glen Affric, it's one giant renewable electricity generating body of water. Along the route are are several signs from Scottish Hydro, this is because the glen is part of the Affric – Beauly hydroelectric scheme. Loch Mullardoch, in the neighbouring Glen Cannich, is dammed, and a 5km tunnel carries water to Loch Benevean, which has also been dammed. From there, another tunnel takes water to Fasnakyle power station, near Cannich. We stopped at Benevean Dam, a few miles up the Glen, for a walk and to enjoy the spectacular views looking down from the dam.
We headed back from Glen Affric in deteriorating weather and tried our luck at the Bunchrew Campsite since we weren't too impressed with the campsite near Beauly, sorry guys. This one however was fine! In the evening we visited Beauly enjoyed a concert by the Beauly Pipe Band and by chance we met Hugh, the piper who played at our wedding eight years ago, how cool is that?
Day 22 – Glenlivet Estate and Speyside

The weather was rather dull so we took things very easy and it was around noon when we left the Bunchrew campsite and headed east via Inverness. Our goal was a visit to Grantown on Spey where we did some necessary shopping before we entered the Glenlivet Estate, in the heart of the Speyside, the area with its many malt whisky distilleries and the only malt whisky trail in the world. Here you find famous distilleries such as Glenfiddich, Dallas Shu, Strathisla and the distillery where my favourite whisky is distilled, The Glenlivet Distillery, one of my favourite Scottish distilleries.
Since it was becoming late in the afternoon already we headed towards the Glenlivet Distillery which we reached just before closing time. A tour wasn't possible but a visit to the new visitor centre was interesting. A lot has changed since I was last here, some ten years ago. Everything is bigger and busier but not necessarily better. You can see that there has been a huge growth in visitor numbers which is good for the distillery but the charm of a distillery visit is gone, it's becoming too big, too commercial, too crowded in my opinion. It's good that nearby Ballindaloch Castle was still open, this tranquil pearl of the north is well worth a visit. The gardens are a joy, the children's playground is perfect and the interior of the castle is one of the finest I've seen in Scotland. It turned out that there was a beautiful campsite nearby, the Aberlour Gardens Caravan & Camping Park, where we enjoyed a nice dinner and a quiet sunny evening, bliss!
Day 23 – Corgarff – Balmoral and Gragievar Castle


We had decided this would be "Castle Day", there are plenty of them in Aberdeenshire and we picked a few castles that were conveniently situated on our route towards the south-west. Unfortunately the day, and weather, were quite disappointing, let me explain why. The first castle on our list was Corgarff Castle, a tower house beautifully situated in the south-east corner of the Glenlivet Estate. Perhaps the best thing of this castle is the dramatic view from a distance, the interior however, for which we had to pay 5 pounds each, was rather disappointing and I felt it wasn't worth the money. But you can't have it all so we went further south over "The Lecht", one of five Scottish ski resorts from which we see absolutely nothing due to thick mist. Going downhill (pun intended) the skies open somewhat and show dramatic views and cloud formations, brilliant. Our next castle is Balmoral Castle, one we've never been to so we decided to visit the summer residence of the British Royal Family. When we arrived it was very crowded, there were lots of folk and buses full of Germans having their lunch with "bread from home" outside in the parking area. We thought It would be a grand day out but now I wished we never did, we never felt really welcome and we weren't allowed to have a look inside the castle. You can cough up a lot of money to see the outside of a castle that isn't half as beautiful as many other castles in Scotland, you know the ones you can actually go into and where you feel welcome. Thumbs down for this one.
After two disappointing castle visits in one day we decided to try a third one, the beautiful Craigievar Castle, not far from our planned campsite at Tarland. We thought with such a castle we couldn't go wrong but we did, although it was our own mistake. It turned out that you can't visit the castle on your own, you have to join a tour, and this tour goes over steep staircases that aren't really suitable for wee kids. We decided to skip the tour so we've only seen the exterior, which is stunning by itself, and walked the lovely castle grounds. At the end of the day we were rather tired and felt glad that we had arrived at the Campsite near Tarland, a site from the Camping and Caravanning Club and being a non member we had to pay 27 pounds for one night with electric hook-up. I know, don't say, this wasn't our day!
Day 24 – Aberdeenshire to St. Andrews and Crail in Fife

It's Sunday again, day 24 has arrived, and we are getting a bit nervous since this is one of our last days in Scotland. Time went so fast and with the day before being a bit boring we were looking forward to a better day. We left early and decided to visit the town of St. Andrews in Fife, we've heard so much about it but never had the chance for a proper visit. We drove from Tarland over the A980 and A93 to Aberdeen, after Banchory, a nice town, we head south over the A957 to visit Stonehaven and Dunnotar Castle. Stonehaven turned out to be a very nice harbour town and we had a good coffee at The Ship Inn. Not far from Stonehaven is Dunnotar Castle, dramatically situated on a high cliff overlooking the North Sea. Brilliant and so much better than Balmoral! Our luck had changed. We didn't take the A90 south but decided to stay close to the sea so we took the A92, a perfect road with nice sea views and a few nice and a few not so nice villages. We managed to pick up a few Smokies in Arbroath before we headed further south via Dundee to St. Andrews.
The weather wasn't that great, cloudy but dry, when we arrived in Fife, St. Andrews. We parked our motorhome in the wee street near St. Leonards School and headed for the town centre after we had visited the home of golf, the old course. We had a lovely time in St. Andrews, the architecture is fascinating, there are the ruins of the Cathedral, which was the most important church in medieval Scotland, there are nice shops and restaurants. You can have a great tme in St. Andrews, we felt as if we need a lot more time which unfortunately we didn't have. Late in the afternoon we headed for Crail, a lovely fishing village in East Neuk of Fife with a beautiful campsite right on the beach, perfect!
Day 25 – Fife to North Berwick
After spending almost four weeks in Bonnie Scotland we were on our way south to our final destination in Scotland, the lovely Sea Side town of North Berwick. But before we arrived there we had a few of the most beautiful fishing villages of Scotland on our list. We first had a proper look at Crail, an outstanding village with beautiful houses, a lovely harbour side and an all-round fantastic village to visit. Our next stop is Pittenweem, just as lovely as Crail but a bit bigger. The harbour area is stunningly beautiful and came as a big surprise to us. After a stroll over the pier and many pictures, the sun is breaking through the clouds a bit, just in time to take some lovely pictures of the white washed houses near the harbour.
We head further south to meet with our friends at the Forth Road Bridge viewpoint, on the north side. After a pleasant time spent with our friends we crossed the Forth Road Bridge and decided to stop in South Queensferry where we enjoyed much better views of the Forth Bridges than from the "viewpoint" in North Queensferry. Right now there are two bridges, a Rail Bridge and a Road bridge, and construction works have started recently for a third bridge which will eventually replace the current road bridge. We realised it's getting late and we drove to North Berwick for our last campsite of this holiday, Tantallon Caravan and Camping Park, with beautiful views of Bass Rock, home to thousands of breeding Gannets.
We end our Scotland in a Motorhome holiday with a beautiful walk on the beach, knowing that this was one heck of a holiday. We have been to places we could only dream of before, the weather was glorious on most of the days, the many people we've seen were most kind and the camera worked overtime, almost 4,000 pictures were taken. We had travelled 3,000 miles through this stunning country and while quietly walking near the surf we rethinking all the beautiful moments we had in the last four weeks. We'll be back Scotland, in a motorhome or not, but we'll be back!
Glen Affric from the Viewpoint
Scots Pine in Glen Affric
Craigievar Castle
The picturesque harbour of Pittenweem
Bass Rock in the evening light