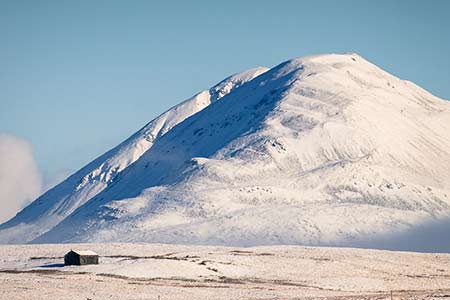 The short answer? That depends… Most folk who visit Scotland do so between April and October and there is a good reason for that. In these months you have the best chances for good weather, the days are relatively long, there are lots of events on and travelling is usually straight forward. And if you have kids you're mostly stuck to the school holidays anyway. Making the trip to Scotland between April and October makes therefore good sense. So why would you even consider visiting Scotland in the winter? There are some very good reasons to consider a winter visit…
If you are looking for dramatic light the winter is the right season. When Atlantic low pressure systems sweep over the landscape with the sun low on the horizon the light can be very dramatic, much better then you would ever get it in summer. And lots of times you'll get to see snow on the hills and the further north you are there's also snow likely on lower grounds. And there is the added bonus of a possible sighting of the Northern lights, or Aurora Borealis. There is also a certain cosiness when you're visiting a pub, restaurant or a ceilidh while it's cold, wet and windy outside. But it's not only rain or snow of course, there are beautiful frosty winter days too with plenty of sunshine where the wintry landscape shows itself from its best side. And if you fancy skiing you'll be pleased to hear that Scotland has some great skiing areas too. And the best thing is that prices are lower than in the tourist season, you can get some great deals on your B&B & Hotel Accommodation.
I've recently found a very nice video which emphasises on all the beautiful things Scotland has to offer in the winter. It has been filmed in Shetland where the conditions are a bit more harsh than in most other parts in Scotland, but it gives a very good idea of what Scotland is like in this time of year. Enjoy!