So you've decided to Holiday in Wester Ross. Accommodation is booked, travel plans are made and there you are, in one of Scotland's most beautiful scenic landscapes.

The rather large area that comprises Wester Ross has no strict borders but it can roughly be found between Loch Carron in the South, Ullapool in the North, Kinlochewe in the East and The Minch, the sea between the Outer Hebrides and the west coast. With so many beautiful things to see and do it is hard to decide where to go first, and what you really should see before you head home again. I've compiled a wee list of things you really shouldn't miss.
High on the list should be a visit to Loch Maree and Beinn Eighe. Loch Maree is the largest loch in the North-West Highlands. North of the loch is Slioch, a giant of a mountain on the Letterewe Estate and south of the loch is the Beinn Eighe Nature Reserve with remains of the Caledonian Pine Forest. The majestic Scots Pines can best be admired when walking the Beinn Eighe Woodland Trail starting from the signposted parking place. The more adventurous can walk the four hour Beinn Eighe Mountain Trail which offers breathtaking views over Loch Maree and surrounding area.

One thing you should not miss is driving Bealach na Ba to Applecross, the famous Pass of the Cattle which starts near Loch Carron. The views from the pass are breathtaking and Applecross is a nice wee village with a hotel. From Applecross you can either go back over the pass or do the fabulous ride along the coast to Shieldaig.
The Rubha Reidh Lighthouse can be found at the end of a single track road which starts at Gairloch, the largest village in the central part of Wester Ross and a nice tourist destination. The last few miles of the track to Rubha Reidh Lighthouse can only be done on foot since the lighthouse and road are privately owned. Read more on our Rubha Reidh page
The largest settlement in Wester Ross is the lovely seaside town of Ullapool with its picturesque harbour, shops, restaurants and museum. Ullapool is also the main ferry terminal for the Outer Hebridean Isle of Lewis.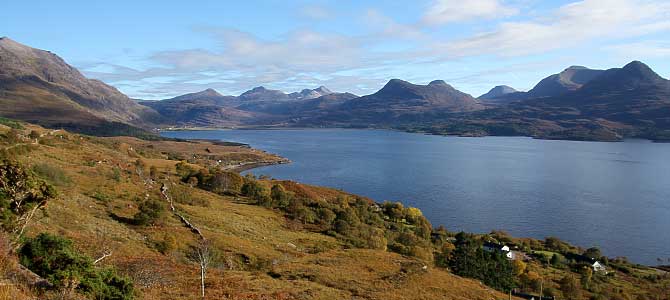 If I had to choose one beautiful driving tour in Scotland it would probably be the one from Kinlochewe via Glen Torridon to Torridon and Lower Diabaig (see map). The views in Glen Torridon are already breathtaking and just when you think it can't get any better wait until you have passed Torridon House and continue to Lower Diabaig. Amazing views are yours when you drive high over Upper Loch Torridon and continue all the way down to the wee harbour at Lower Diabaig. This is Wester Ross in optima forma. You just don't want to leave.
Much more Info on Wester Ross: