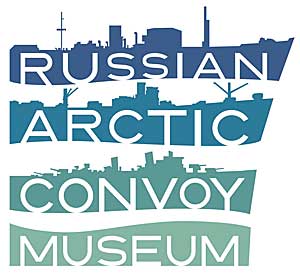 It was in August 2011 that the community around Loch Ewe held a 70th anniversary Memorial Service to commemorate the first of many convoys that set sail from Loch Ewe on their perilous journey taking war supplies to Russia. Between 1941 and 1945 the local Wester Ross community supported this key part of the war effort, and today's local community are now working hard to raise money for a Museum on the shores of the loch. They are determined to create a lasting legacy to the 3,000 men who died and to all who took part in this remarkable story from WWII.
The importance of highlighting the legacy of the WWII Russian Arctic Convoys is central to the project plans for a Russian Arctic Convoy Museum to be based on the shores of Loch Ewe, North West Scotland. The regeneration project needs to raise 3 million GPS to build the Museum and a new Community Centre for the village of Aultbea, which was designated HMS Helicon during WWII.
The Russian Arctic Convoy Museum group are planning an exciting event in early May. Entitled 'World War II and the Arctic Convoys' Week, the week of 7th – 12th May is shaping up into a fascinating range of lectures, exhibitions, dances, tea parties and reunions to be held in the Wester Ross area – all around the Wartime 1940's theme. All proceeds will go towards the Museum Project.
During this week there is a chance to see and use the world famous Enigma machine. There will be 'Hands On' sessions available. Dr Mark Baldwin, a world expert on code-breaking, is the keynote speaker at the event. He is bringing his Enigma machine with him when he lectures on 'Enigma and Bletchley Park', as well as 'U-Boats and the Convoys'. There will also be a Families Hands-On session, where the whole family can come along and use this remarkable device.
The German military used the Enigma cipher machine during the war to keep their communications secret. The German authorities believed in the absolute security of the Enigma. However, with the help of Polish mathematicians who had managed to acquire a machine prior to the outbreak of WW2, British code breakers stationed at Bletchley Park managed to exploit weaknesses in the machine and this gave the Allies a key advantage, which, according to historians, shortened the war by two years thus saving many lives.
To support the plans of the Russian Arctic Convoy Museum group in Wester Ross and to learn more about this exciting and important project please visit www.russianarcticconvoymuseum.co.uk