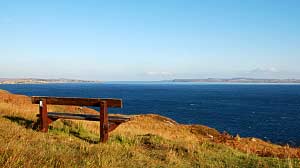 Loch Ewe, the only north-facing Loch in Scotland, is situated in Wester Ross not far from Gairloch. Loch Ewe has an interesting history; during WW2 Loch Ewe was a convoy collecting point for the Arctic convoys to Russia. These convoys provided vital supplies to Murmansk and Archangel. Loch Ewe was protected by light and heavy anti aircraft guns. A boom net and mine defence system helped protect the vessels in Loch Ewe from German submarines (U boats) and air attacks. Altogether 481 merchant ships and over 100 naval vessels left Loch Ewe for Russia in a total of 19 Arctic convoys. At Rubha nan Sasan, on the western tip of Loch Ewe is a war memorial to the crews lost on Russian Convoys. Due to its wartime destination there are many more or less ruined gun-emplacements and remains of other small buildings scattered around the loch. Dotted around Loch Ewe are several interesting villages, smaller settlements and farms, each with their own character. This loch even has its own inhabited island, the Isle of Ewe. I believe there are only three to five families living here and the only way across to Aultbea is a wee boat.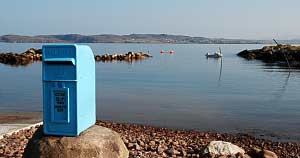 A drive around the loch, from Cove on the west-side to Mellon Charles on the east-side is 17 miles, mostly on single track roads, and can easily be done on a bike as well. I've spent many weeks in this area and I'm always pleasantly surprised by the beautiful and ever changing light conditions. If you're looking for a quiet holiday in a remote location you might consider this area. And mind you, Ullapool and Inverness are only a one and a half hours drive away if you can't stand the solitude any longer.
Cove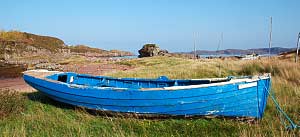 Starting on the west-side of the loch we find a small settlement with no more than 20 to 40 homes and farms at the beginning of the B8057, the single track road from Rubha nan Sasan to Poolewe. There is a cave close to the shore near the phonebox where worshipping took place during wartime which is only accessible at low tides. Cove has its own slipway in a sheltered part of the shore. There is not much more in Cove than a whole lot of nature and most of all silence, something rare these days, but not in this part of Scotland. Just outside Cove is Firemore Beach, a lovely stretch of sandy beach, ideal for walking and often blessed with beautiful light.
Inverasdale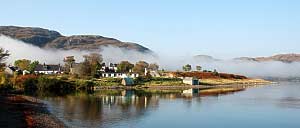 South from Cove is Inverasdale, a wee settlement but bigger in size than Cove. To my knowledge it is here where you can find the only "shop", the Shepherd's Hut, on this side of the loch! There is a primary school and further down the road parking space for hill walkers.
Poolewe
Poolewe is situated at the mouth of river Ewe connecting Loch Maree with the open sea. Poolewe is, together with Aultbea, the largest village in the area with its own market every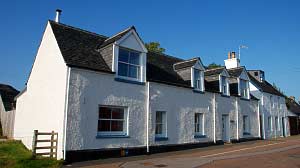 Tuesday morning. The Poolewe hotel, which serves good dinners in the bisto, and the Bridge Coffee Shop are highly recommended for a visit. In the centre of the village is a spar shop annex post office, the church and the village hall. Further down the loch towards Inverewe is the Poolewe Burial Ground with a Pictish Symbol Stone. This pre-Christian Pictish symbol stone is a recumbent slab lying close to the ruins of a chapel. The slab bears a weathered crescent and V-rod symbol decorated with a curvilinear design and an arrangement of dots. Pictish stones are traditionally found in northern and eastern parts of Scotland. The stone at Poolewe is one of only two symbol stones discovered on the west coast of mainland Scotland. The other stone can be seen in Gairloch Heritage Museum. Half a mile north of Poolewe is Inverewe Garden.
Inverewe Garden
Inverewe Garden has a wonderful array of foreign plants which are well suited to the Gulf Stream. There are giant yuccas, phormiums and plenty of other exotic species, from all over the world. Rhododendrons from the Himalayas, eucalypts from Tasmania, Oleria from New Zealand and other plants from Chile and South Africa. Plenty of paths to get lost on and there are some interesting viewpoint more to the back of the garden. Inverewe Garden is set in 50 acres and is worth visiting in all seasons. The gardens are open all year and there is a self-service restaurant, a visitor centre and a gift shop, all open from early spring to late autumn. A large car park is situated close to the entrance to the garden.
Aultbea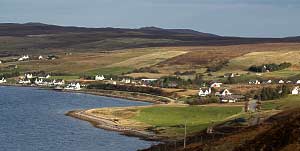 If you come from Poolewe you might want to slow down a bit since the road, which is going up considerably, offers some stunning viewpoints over Loch Ewe, the Isle of Ewe and the mountains of Wester Ross. Aultbea is a small fishing village situated on the shores of Loch Ewe. The village has two hotels, the Aultbea Hotel and the Drumchork Lodge Hotel, which won the accolade of top whisky hotel in the world in 2006. The Drumchork Lodge Hotel is the home of the Loch Ewe Distillery. Besides two churches, a butcher and a craft shop you can also find Aultbea Stores, an excellent shop which offers a lot more than the usual essentials. The wee harbour can be found at the pier, opposite the Aultbea Stores.
Ormiscraig and Mellon Charles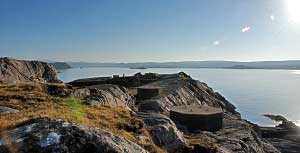 Ormiscraig and Mellon Charles on the east-side are almost mirrored to Inverasdale on the other side of the loch although it does seem to be sunnier on this side. In Mellon Charles is the Perfume Studio, a five star VisitScotland tourist attraction, which is also an excellent stop for a coffee, tea or cake. Mellon Charles has a wee Naval Depot and at the end of the single track road is a nice walk to the WW2 buildings over a track. If you like picnics you might consider this spot some time, if you don't mind to share it with a few curious sheep.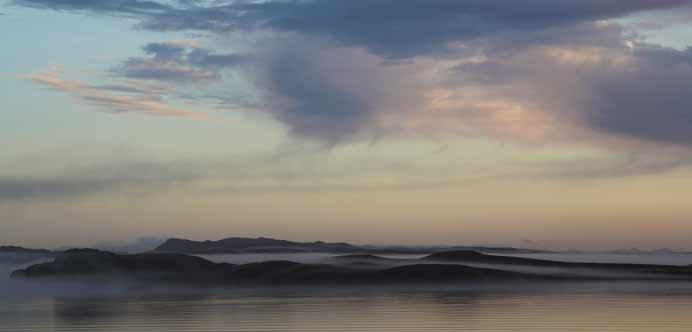 Mist over Isle of Ewe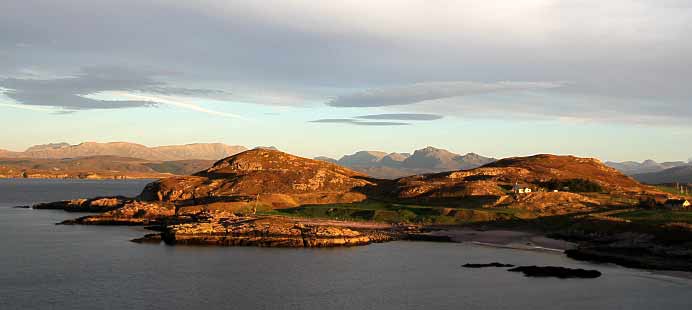 Evening Light over Loch Ewe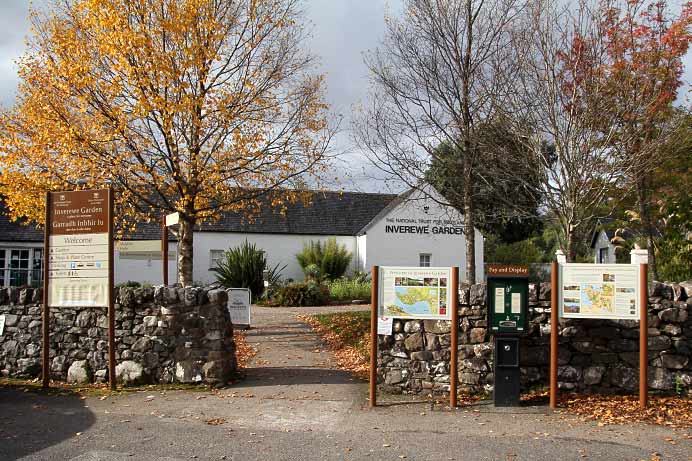 Main Entrance Inverewe Garden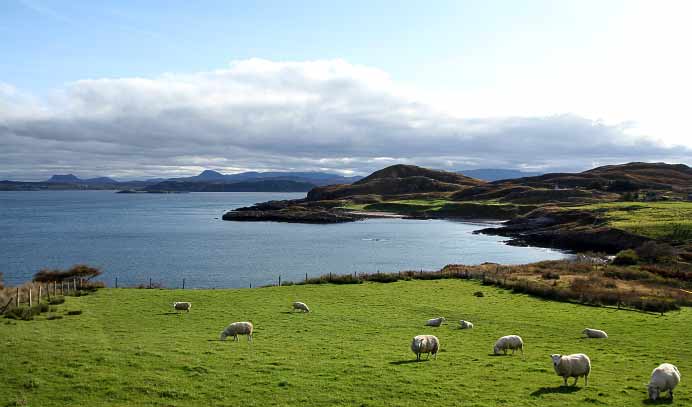 Sheep in a field near Cove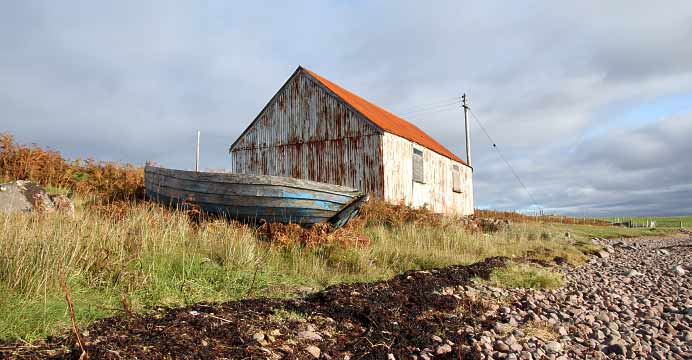 Boathouse at Loch Ewe
Rainbow over Boor Rocks Loch Ewe