Orkney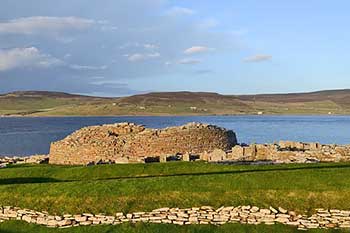 Stretching out into the North Sea among strong winds and rough seas, Orkney and Shetland are Scotland's most northern isles.
The most southerly of them and a short distance from the northern Scottish mainland is Orkney, also referred to as Orkney Isles, rising modestly from the sea, this cluster of more than seventy islands is a sparsely populated but very fertile land ideal for farming. During the long summer days the land is awash with wild flowers covering the meadows with enormous bright skies, with the sound of millions of sea birds along its stunning coastline.
Shetland Islands
About sixty miles further north you have the very remote Shetland Isles, a completely different type of islands with rugged cliffs and weather beaten land, exposed to the fiercest of weather from the north sea. On these Islands magnificent cliffs reach out of the sea like towering skyscrapers forming heather coated hills, with deep fjords chiseling deep into the rugged landscape, its a forbidden and very powerful landscape, with populations scattered along its coastline, consisting of fishing communities and sea faring people, making a living out of the sea.
Life on the Islands
Life on both Orkney and Shetland relies very much on the sea as a source of sustenance, but the sea also provides disasters and a route for many invaders over its much talked about history, consisting of invasions from northern Europe with the Vikings and many more unwelcome visitors claiming rights for these islands. The islands have a rich history and are scattered with many archaeological sites, that passing invaders left leaving evidence of the past cultures that once used these islands as refuge.
The Islands have become a Mecca for visiting tourists and both groups of the islands offering many great walks along with superb fishing opportunities and a must visit for birdwatchers, the coastal areas are also ideal for those interested in sailing and other sea sports. Although the oil industry does have a footing on these islands, there is no evident effect on the environment, the islands are still pristine and free from any pollution.
The islands have an obvious beauty, with both sets showing vistas from lush meadows to strong rugged cliffs and hills, the islands gives fantastic opportunities for photographers who take delight in the wonderful light and ever changing skies and seas, whilst those looking for history and archaeology can harbour a wonderful and heroic history, where island survival is a Hugh achievement considering the past history of these stunning islands.
Getting to the Orkney and Shetland islands has never been easier with ferry companies supplying routes from mainland Scotland, you can set sail from Scrabster near Thurso and also sail from Aberdeen, There are also flights to the islands from a few airline companies if you want to get there much faster, although there is no better feeling than the sail towards the islands from a ferry.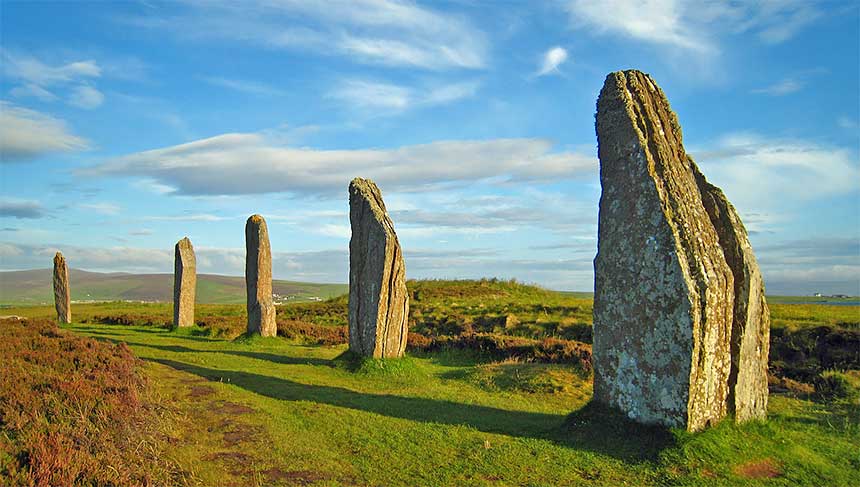 Things to do in Orkney Islands
The Neolithic settlement of Skara Brae is near the Bay of Skaill with its white beach, it is most definitely one of the best preserved prehistoric settlements in Europe, visitors can enjoy and experience ancient homes at this wonderful site, definitely worth a visit.
A lovely cathedral in Kirkwall, Orkneys main town, built in 1137, with great examples of Norman architecture and built from sandstone quarried locally it provides a nice place to visit when visiting Kirkwall.
The largest Neolithic standing stone circle in Scotland, The Ring of Brodgar, stands over 340ft in diameter, situated between two lochs Harray and Steness, and thought to be constructed between the dates of 2000BC and 2500BC, it is now part of the UNESCO World Heritage Site and managed by Historic Scotland.
Things to do in Shetland Islands
Located on Hay's Dock, the Jarlshof Prehistoric and Norse Settlement is an award winning visitor attraction which is worth a visit. Discover many of the islands secrets detailing lots of information about this great island. The admission is also and caters for a great day out for all the family when on holiday in Scotland. Thought to be at least 4,500 years old, but items have been dug up on the site dating back 7000 years, some structures found here are thought to be from the Pictish times right through to medieval times, definitely worth a visit, especially if you are interested in archeology.
Situated near Lerwick the Clickimin Broch was once situated on an island within Clickimin Loch, it is now connected to the mainland by a stone causeway after drainage reduced the size of the loch, discover the stone slab with carved footprints on the causeway, a must see attraction on this stunning island.
Relevant info:
More about Orkney – Tourist Info about Orkney
More about Shetland – Tourist Info about Shetland
Book accommodation in Orkney
Book accommodation in Shetland
Pevensey Orkney Guide – Comprehensive Illustrative Guide
Pevensey Shetland Guide – Comprehensive Illustrative Guide
If you need any advice on how to get to any of the islands, or any general information please feel free to contact us via our contact page and we will be happy to help you.
image of Gurness broche copyright Andrew Tyron, ring of brodgar Copyright Martyn Gorman, Jarlshof Copyright Bob Embleton, Kirkwall harbour Copyright Bob Jones under creative common license