Some info about the area: Caithness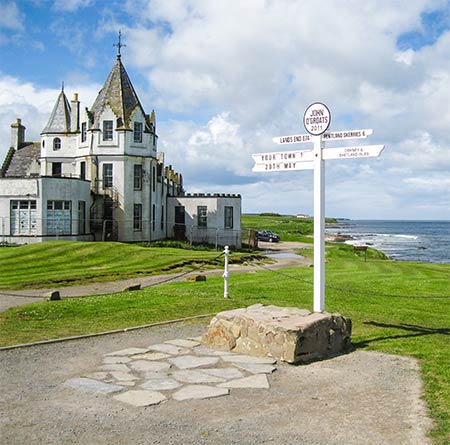 Caithness is known for its extensive open spaces and big changeable skies and frequently referred to as 'the low lands beyond the Highlands'. The borders of Caithness are the Moray Firth to the east and the Pentland Firth to the north. Caithness meets the county of Sutherland, and altogether covers the coast along the far north of Scotland. The coast is low level on the eastern side, and magnificent on the north, with high rugged cliffs and stacks standing proud out at sea in locations like Duncansby Head. Caithness boasts some of the most outstanding and nationally important archaeology in the United Kingdom stretching from the magnificent sites of the Mesolithic hunters and gatherers to the ancient Broch builders, as well as the mysterious stone rows largely found on the eastern coast of Caithness.
Thurso and Wick are the core settlements, and are centred on harbours and make their hard earned living on a combination of sea fishing and leisure and tourism. Inland is the bleak flat peat bog and moorlands of the Flow Country, that are one of the last remaining true wilderness areas of modern Europe. Although the total population of the Flow Country is scarce, it is abundant with rare plants, wildlife, insects and birds.

John o'Groats
This northern Highland village provides visitors with a dramatic, natural scenery and captivating wildlife. Only 11 miles from Dunnet Head, the mostly northern point of mainland Britain, here you will find many a folk embarking, or arriving on their own epic journey to or from Lands' End in England consisting of a mere 876 miles.
Situated on Britain's north-eastern tip in an extreme location, this highland village delights travellers with dramatic scenery and a fantastic selection of wildlife for all to see. Out to sea you could possibly see whales, dolphins or Killer whales along with a collection of sea birds to envy any ornithologist.
If you are interested in walking you can follow many coastal paths starting from John o' Groats, favourite walking destinations include Duncansby Head Lighthouse and the Stacks of Duncansby. Boat trips are also popular and are available from the harbour. From these boat trips you can see magnificent sea cliffs with nesting birds or spot Dolphins and Whales from the safety of your boat.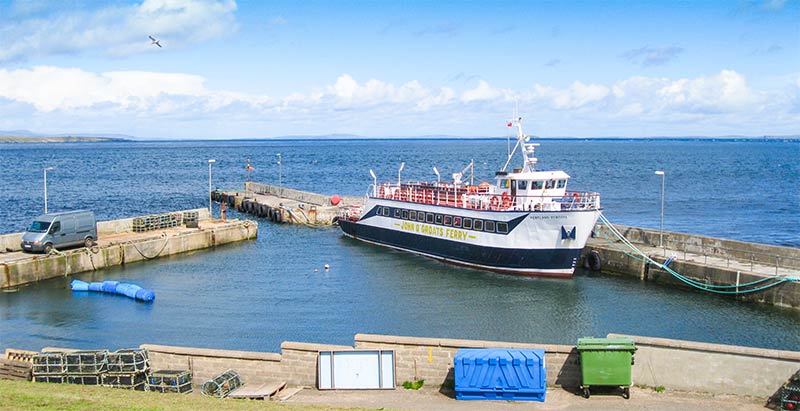 John o'Groats nearby Attractions
Castle and Gardens of Mey
The Queen Mother purchased the Castle of Mey in 1952, and she lovingly restored the castle and gardens that can be seen today. The Queen Mother enjoyed many summers at Castle Mey during her life and continued to help create the wonderful gardens enjoyed by many each year. A tour of the castle and grounds gives visitors a chance to enjoy her summer home much as she last left it after her final visit in 2001.
In the grounds there is a visitor centre and gift shop were you can purchase many lovely reminders of your visit. An award winning tea room is also available with beautiful views on a fine day to Orkney. For the children in the East Woods you will find the Animal Centre with rare breeds of farm animals including donkeys, pigs, chickens, ducks and sheep. You will find more information at www.castleofmey.org.uk

Walks near John o'Groats
This coastal area of Scotland is a walker's paradise with many stunning walks. Explore the ragged cliffs of Dunnet Head the most northern point of mainland United Kingdom, or take a stroll to St Johns Point where you can find stunning natural harbours with great views of the Pentland Firth. The most popular walk has to be the coastal path to Duncansby Head, here you will find magnificent sea stacks that you will never forget.
Chasing Northern Lights
The further north you travel the better the chances are that you can witness the magnificent Northern Lights or Aurora Borealis. With the long and very dark nights in this part of the world you could be lucky and witness this nature phenomenon yourself. We have a guide on our website about Chasing the Northern Lights in Scotland
Duncansby Lighthouse
Duncansby Head Lighthouse is the real northeasterly tip of Scotland. The lighthouse is located on top of a high cliff and was built in 1924. The area has some amazing cliffs and sea stacks and is highly recommended to visit if you like dramatic sea views. A two mile single track road leads to the lighthouse. Duncansby Head was automated in 1997.
Wick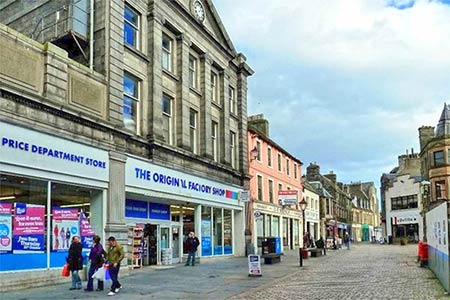 The historical former Viking settlement of Wick, (Wick actually comprises of two towns – Wick proper, and Pultneytown, directly south across the river), is the main town in the far north of the Scottish mainland. The town sits along the famous River Wick, extending along each side of Wick Bay, and was once said to be the busiest herring fishing port in Europe in the mid-19th century. The old remnants of the Castle of Old Wick, often mentioned as the Old Man of Wick, sits proudly high along the edge of the cliffs south of Wick Bay and looks out onto the North Sea.
The dramatic 15th to 17th century ruins of Sinclair and Girnigoe castles sit approximately 3 miles to the north from Wick and rise high from a sea battered headland where they once stood proudly. You can find an excellent clifftop hike to the castle via Noss Head Lighthouse from the small fishing village of Staxigoe. Visitors to the area will discover a wide variety of wildlife along the way comprising of various species of seabirds including puffins and a stunning scenic beach, popular for water-sports, here you will find windsurfing and sand-yachting, at the end of Sinclair Bay.
Wick nearby Attractions
Wick Heritage Centre
The Wick Heritage Centre is a fascinating local history museum which tells the history of the town in great detail. The Wick Heritage Centre contains a fish kiln, a cooperage, a refurbished fisherman's home, art gallery, and the renowned Johnston collection of photographs covering 115 years history of Wick, an era when Wick was the herring fishing capital of Europe, an operational lighthouse and a harbour setting. Visit www.wickheritage.org for more info.
Castle Sinclair Girnigoe, Near Wick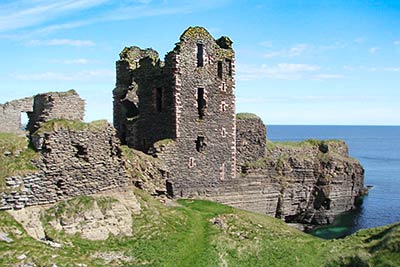 Castle Sinclair is very dramatic located on a steep headland shaped by many years of wind and sea. The Castle has a very mysterious feel to it that can send your imagination wild trying to envisage how this great building once looked. This clifftop ruin is immersed in a dramatic history that comprises of disputed claims of ownership and seizure by Cromwellian armies in the 1600s. Located not far from the town of Wick, it's located amid some stunning coastal scenery surrounded by wildlife and excellent opportunities for photographers. More info on www.castlesinclairgirnigoe.org
Pulteney Distillery
Whisky is Scotland's national drink and if you're an enthusiast a visit to Pulteney Distillery in Wick is a must do opportunity. Take a detailed tour to see how the water of life is produced at this historic distillery and discover the time honoured process that goes into distilling Old Pulteney single malt whisky, known as the 'Maritime Malt'. Finish the day sampling some of Scotland finest Whisky at this fascinating distillery. For more info visit www.oldpulteney.com
Thurso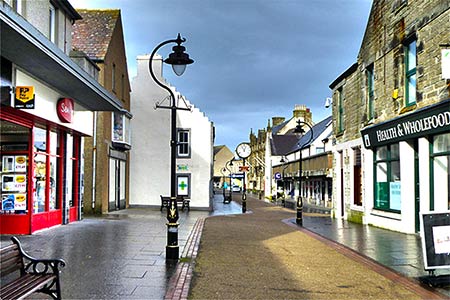 Thurso is the most northerly town in mainland Scotland, and is a great base for discovering the surrounding areas. You will never be short of things to see and do in Thurso. The town provides an array of lovely traditional gift shops, bars, cafes and restaurants. Another great thing to see is the circular well-house of Meadow Well, a lovely public library and not forgetting the remarkable Janet Street overlooking the River Thurso next to Thurso Bridge. Another must see is the Swanson Gallery which hosts year round exhibitions of fine artwork, or maybe take a trip to see the magical world of Glass Creations by artist Ian Pearson. Caithness Horizons Museum in the old town hall is also well worth a visit with a fascinating Early Medieval Sculpture Collection.
Thurso can also boast as being one of the best heavy cold surf destinations that has also hosted two World Championships for Kayak surfing. The surrounding beaches offer all year round surfing opportunities and is one of the best places in Scotland to enjoy many types of water-sports.
Dounreay nuclear power station is West of Thurso and its interesting story can be found in Caithness Horizons visitor centre where there is an exhibition. The dramatic north coastline stretches away to the west, and further inland is the immense area of blanket bog known as the 'Flow Country'. More info here www.caithnesshorizonsmuseum.com
Thurso nearby Attractions
RSPB Dunnet Head
The most northerly point in mainland Britain, Dunnet Head has stunning sea cliffs and coastal grassland. These are home to puffins, razorbills, guillemots, fulmars, kittiwakes, shags and cormorants. The RSPB Reserver is always open, free of charge. Donations are welcome. More info on the RSPB website
Accommodation
For Hotels and Bed and Breakfast Accommodation in the area please visit our accommodation pages
Day Trip to Orkney from Gills Bay, Scrabster and John o'Groats
Pentland Ferries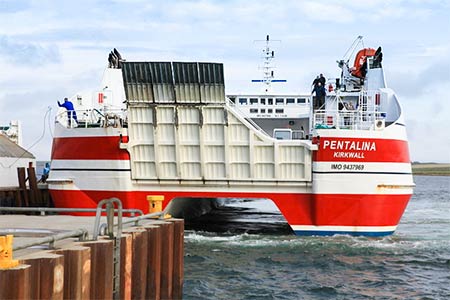 Pentland Ferries offer the shortest crossing time to Orkney for cars and passengers. The route is the most sheltered between Gills Bay in Caithness and St Margaret's Hope, South Ronaldsay in Orkney providing a more appealing option to travellers who are unsure of travelling on the sea. Indication of prices (Sep 2017): A car and two adults around £140 for a return trip. More info www.pentlandferries.co.uk
Northlink Ferries
Northlink Ferries operate the Scrabster to Stromness route. This ferry is the only one that sails past The Old Man of Hoy – a famous seastack and Orcadian landmark. The ferry sails up to six times a day. Indication of prices (Sep 2017): A car and two adults around £180 for a return trip. More info: www.northlinkferries.co.uk
John o'Groats Passenger Ferry
Operates at various times a day between John O'Groats and Burwick (Orkney), every day between 1 May to 30 September. Indication of prices (Sep 2017): Two adults around £72 for a return trip. More info: www.jogferry.co.uk
Finding the cheapest ferry fares
Aferry has a comparison site where you can find the best deals for Orkney ferry crossings. Just visit www.aferry.co.uk for the cheapest ferry fares.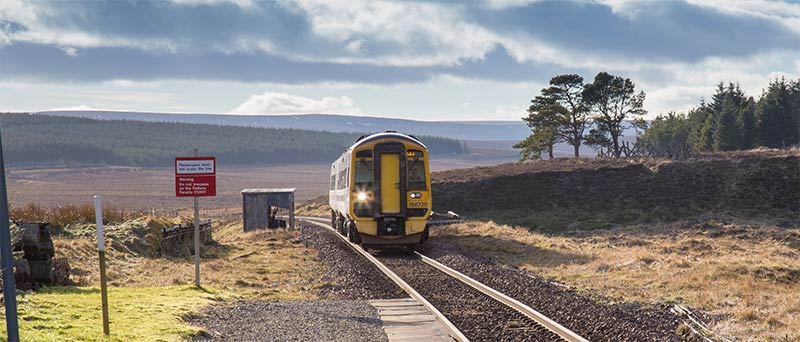 Discover the North of Scotland by Train
An alternative to the 2.5 hours drive from Inverness to Thurso is the Far North Line, a rural railway extending from Inverness to Thurso and Wick. This is the northernmost railway in the UK and many sections of this line are single track. All trains are diesel powered and operated by Scotrail. Journey time from Inverness to Thurso – approx. 4 hours and from Inverness to Wick – approx 4 hours 30 minutes. More info and tickets on www.scotrail.co.uk
Map of Caithness, Wick, Thurso and John o'Groats
Beautiful Video showing the North of Scotland
photo credits wikimedia commons (cc-by-sa/2.0): john lucas – photo thurso town centre . thomas froese – castle mey. keiss castle – j. drevet. far north line – rob faulkner. wick town centre – mary and angus hogg. hotel and signpost, john o'groats & john o'groats harbour – bob jones. calum mcroberts – pentalina. castle sinclair –
John Proctor