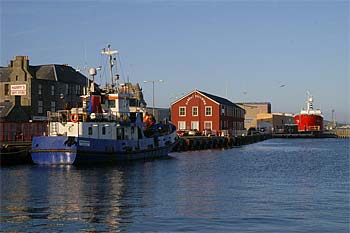 Shetland is a mosaic of over a hundred islands. This most northerly part of the British Isles is inhabited by around 22,000 people and an abundance of wildlife. It is a land shaped by the sea from dramatic, sculpted cliffs to tranquil sandy bays. This nutrient-rich sea has fashioned much of the islands 5,000 year history. It is a land of many contrasts – rugged hills and flower-strewn meadows; large new houses and traditional crofts; ultramodern ships and small boats which can trace their ancestry back to Viking times. Islands which are distinctly Norse in character yet part of Scotland.
Islands of Shetland
The Shetland Islands lie scattered some 150 km north of the Scottish Mainland. The capital, Lerwick is 340 km from the Scottish port of Aberdeen and only about 29 km more than this from Bergen in Norway and Torshavn in the Faroe Islands. The 60-degree line of latitude lies across the South Mainland of Shetland, passing through the small island of Mousa with its famous broch. There are over 100 islands ranging in size from the large island of Mainland to the numerous small skerries and islets along the coast. The distance from Sumburgh Head, the most southerly tip of Mainland, to Hermaness at the most northerly tip of Unst, is about 113 km. North of Unst lies Muckle Flugga with its lighthouse 59m above sea level; the most northerly inhabited island in the British Isles. Fair Isle is 24 miles (39 km) south-west of Sumburgh Head and lies mid-way between Shetland and Orkney.

Shetland Climate
Despite its northerly latitude, Shetland enjoys a pleasant, temperate, oceanic climate with average winter temperatures comparable to those in western Britain and the annual average rainfall is less than mainland Scotland. Snow rarely lies more than a few days. The shores of the islands are warmed by the Gulf Stream. The northern summer days are long. At mid-summer, the sun is above the horizon for almost 19 hours. The light gradually fades into a long twilight, the 'Simmer Dim', and on a clear night, it never gets dark between sunset and sunrise. Sunsets and sunrises can be magnificent, with glowing colours reflected in loch and sea. Weather in Shetland however can be very changeable and the "four seasons in a day" effect can be enjoyed here in all its glory!
Fishing Industry in Shetland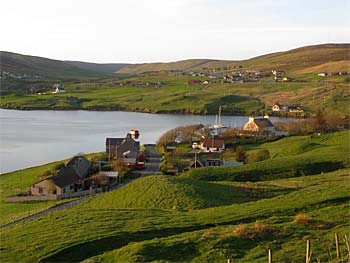 The Shetland Isles have traditionally been one of the most fisheries-dependent communities in Europe. With a population of around 22 500, the islands have historically been heavily involved in fish catching, fish processing and, more recently, have developed a sizeable aquaculture industry focusing mainly on the production of farmed salmon. Shetland seafood products are considered to be of premium quality and are exported throughout the world. Around 2 000 people are employed in the Shetland seafood industry accounting for approximately one sixth of the total employment in Shetland. The North Sea oil industry has long been recognised as a key component of not only Shetland's economy but the economy of the UK as a whole. After decades of decline the population of Shetland, which had fallen to nearly 17,000 in the mid-1960s, rose by 31% between 1971 and 1981 as a direct result of oil related activity.
Wildlife
Shetland is the site of one of the largest bird colonies in the North Atlantic, home to more than one million birds. Most birds are found in colonies on Hermaness, Foula, Mousa, Noss, Sumburgh Head and Fair Isle. Some of the birds found on the islands are Atlantic Puffin, Storm-petrel, Northern Lapwing, Gannets and Winter Wren. Many arctic birds spend the winter on Shetland and among those are Whooper Swan and Great Northern Diver.
Travel
Most major airports and cities in the UK have scheduled flights to Shetland through Aberdeen, Edinburgh and Glasgow. Northlink Ferries currently operate car ferries seven days a week direct from Aberdeen to Shetland and there are also connections to Scrabster in Caithness (via Orkney). The ferry journey from Aberdeen to Shetland takes between 12-14 hours, leaving Aberdeen at 1900 hours direct (1700 via Orkney) and arriving in Shetland 0730 hours the following morning. The return journey similarly leaves Lerwick at 1900 hours direct (1730 via Orkney). In the summer, a ferry operates weekly between Bergen (Norway) and Lerwick, and an air service connects
Bergen with Sumburgh Airport.
---

Further Information:
Hotels in Shetland Islands
More Scottish island images
Map of Shetland