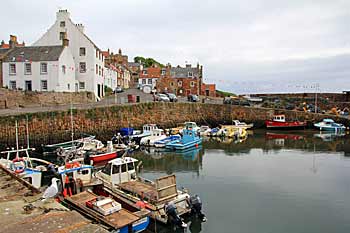 During our spring tour when we travelled Scotland in a Motorhome, we pretty much covered the entire country, we returned south via Beauly and Aberdeenshire. At a campsite in Tarland, east of Aberdeen, we had a nice chat with someone and he told us to if we were to head south to visit the village of Crail, just south of St. Andrews. Now St. Andrews was on our "To Do List" but I had never heard of Crail. So the next day we had quite a long drive ahead, from the campsite at Tarland via Aberdeen and Stonehaven, where we visited Dunnotar Castle, all the way south to Dundee and St. Andrews. We decided to take the A92 along the coast and via Dundee and a lovely visit to St. Andrews we ended up in Crail, on a campsite outside the centre of the village.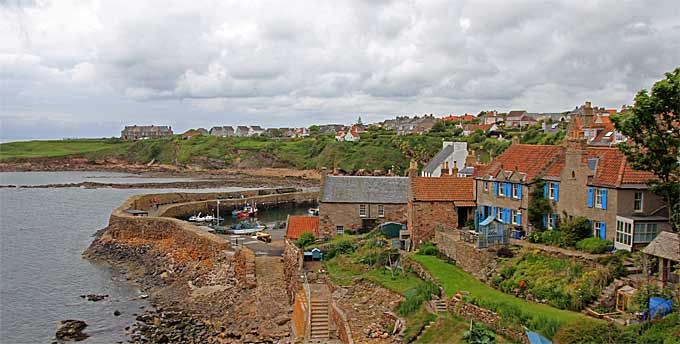 This area, or corner, of Scotland is called East Neuk and is part of Fife. Neuk by the way stands for nook or corner. On the Crail website you can read the following headline "a fringe of gold on a beggar's mantle". They are referring to King James VI of Scotland who described Fife as a "beggar's mantle fringed wi gowd", the golden fringe being the coast and its chain of little ports with their thriving fishing fleets and rich trading links with the Low Countries. Wool, linen, coal and salt were all traded. Salt pans heated by local coal were a feature of the Fife coast in the past. The distinctive red clay pan tiles seen on many old buildings in Fife arrived as ballast on trading boats and replaced the previously thatched roofs.
The next day we visited the village and harbour, well known for it's shellfish, and we were in for a surprise. Crail is beautiful and it goes back a long way, as far back as the Pictish period, that's the early middle ages. Marketgate, in the medieval heart of the village, was once the largest market place in Europe. The houses in the village all look very well maintained and colourful and it's a pleasure to wander through the sometimes tiny streets and alleys down towards the harbour, another jewel built in the 16th century, and was later expanded by Robert Stevenson. The pretty harbour, the cottages and the village itself are a photographers dream so make sure to plan enough time for a proper visit of this beautiful fishing village.