In Wigtown, a lovely Scottish town in Dumfries and Galloway a few miles south of Newton Stuart, you'd better not say the word e-reader out loud as this is the Book Capital of Scotland, and we're talking about the real paper books, and lots of them. The official title is Scotland's National Book Town!
And now I hear you thinking how it became the Book Capital of Scotland? Well Wigtown wasn't the book capital of Scotland all it's life, it just happened years ago to boost the local economy and it has been a success. Wigtown has a good number of second hand bookshops dotted around the town centre and is very much worth a visit, especially on market day, which is in the Market Square on Saturdays from March to October. And if books aren't your thing you can still visit Wigtown as it's a lovely place with a pretty centre.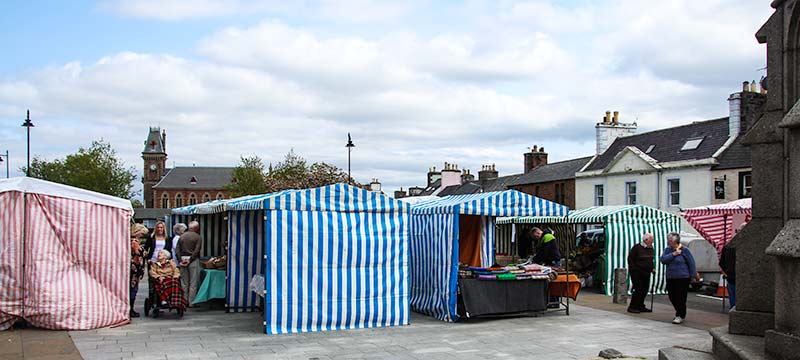 The market is nice and has lots of stalls with fruit & vegetables, plants, preserves, Harris tweed, cakes, pictures of Galloway, cheese, jewellery and… You guessed it. Books!! The market starts at 10.30 am and finishes at 3.30 pm.
Wigtown Book Festival
A town carrying the name book capital of Scotland wouldn't be worthy of its name if it wouldn't organise a proper book festival. 1999 was the year when the 10 day book festival was held for the first time and today this is the second biggest book festival of Scotland. Quite an achievement. The festival is held in the autumn. Check out the official website for this years dates.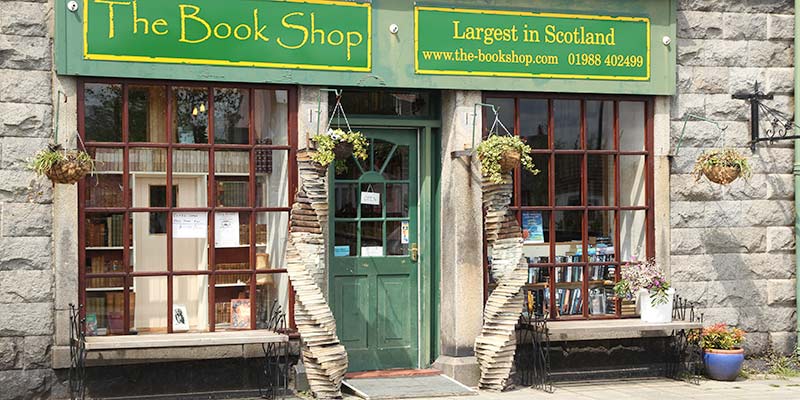 See and Do around Wigtown
If you're doing a daytrip in the area you can easily combine it with nearby New Abbey and Sweetheart Abbey which is a little over an hours drive to the east. Below are some more visitor attractions which you can visit.
Very closeby is Bladnoch Distillery, the most southerly distillery of Scotland. Their visitor centre has been recently renovated and a cafe will open end of August 2019. They are doing distillery tours 7 days a week and are open from 10:00 – 17:30
A few miles west from Wigtown is Torhouse Stone Circle, located next to the main road. There is good parking available so it's recommended to visit. On the other side of the road are a few more standing stones.
Carsluith Castle, the ruins of a well preserved tower house built in 1560, is open for a visit all year round. It is situated on the A75 next to the Marrbury Smokehouse which has a 5 star tourist shop and Art Gallery. Carsluith Castle, official website here, can be found 16 miles from Wigtown on the opposite (east) bank of the River Cree.
North of Wigtown is Newton Stuart, the centre of a large rural area which includes the stunningly beautiful Galloway Forest Park to the north and the peninsula to the south. Both Newton Stuart, for shops, and the Galloway Forest park, for walking and cycling, are worth a visit, although the latter requires some more time as it's large and offers lots of other activities too. For more information visit the official website.
Eating out in and around Wigtown
There are several restaurants in Wigtown such as the Reading Lasses, a bookshop and cafe with good food. The nearby Craft Hotel serves breakfasts, lunches and dinners. Cafe Rendezvous is great for coffees, light lunches and cakes and so is Beltie Books near the Parish Church. If Italian food is your thing you need to drive 6 miles south to Sorbie where you'll find The Pheasant, an excellent restaurant along the A746.
Accommodation in and around Wigtown
There are a good number of excellent campsites in the area, mostly near the coast around the River Cree estuary. For Hotel and B&B accommodation please visit our Accomodation pages
Map of Wigtown and Area
Photo of Carsluith Castle by Tom Parnell – wikimedia commons