Pretty villages and towns can be found anywhere in Scotland and recently we came across another one of those lovely villages in the south-east of Dumfries and Galloway. We spent the night in Clonyard House Hotel as we were passing through on our way north-east towards Sweetheart Abbey. As this was a first for us in this particular part of Dumfries and Galloway we were again pleasantly surprised by the beauty of this area. Lovely roads, small villages, nice campsites, a few beaches and plenty of nature can be found in this quiet and rural part of Scotland.

Drumburn Viewpoint
On our way north we passed a stunning viewpoint, Drumburn Viewpoint. The view over the Solway coast is fabulous and the oak tree at the top of the parking space, battered by storms, is just as impressive. There are a few parking spaces here and it's a great place to admire the views and for having a picnic.
New Abbey and Sweetheart Abbey
A few miles further north we reached the village of New Abbey, home to Sweetheart Abbey, founded by Lady Devorgilla in 1273 in memory of her husband John Balliol. She kept his embalmed heart close to her for the rest of her life. The monks named the abbey dulce cor ("sweet heart").
At the time of our visit, July 2019, the entrance to Sweetheart Abbey was free due to problems with the stonework in the high remains of the abbey. Only the lower remains could be visited at the time. It's unsure when this situation will be resolved. Despite parts of the Abbey being closed it was still a highly interesting visit. The coffee shop next door provided some wonderful refreshments and after that a walk through this lovely village was a delight. There is a Saw Mill on the other end of the village which can be visited, close to the village centre where you'll find a hotel, post office and shop.
Waterloo Monument Walk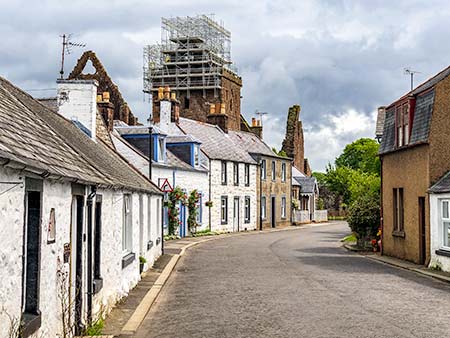 Behind the Saw Mill is a wee road going up to the Waterloo Monument from where you'll have stunning views over the Nith Estuary. This walk is a few km over a minor road and a path with steps at the end. Best to park at the large car park next to the Abbey.
Further practical information
Map of New Abbey and Area