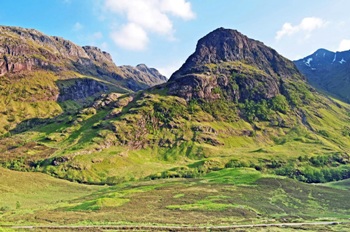 After travelling all over the world in a quest for the ideal holiday location, there is always one place I always return to, that place is Scotland. Why does Scotland intrigue me so much, why does it always make me feel I am in the right place, why does this fine land always warm my heart and make me feel content like no other country on this planet of ours. To be entirely honest I don't know, all I do know, it feels right, and that's enough for me. So in this article I am going to reach into my feelings and discover why Scotland is the perfect location for myself.
The Scottish Outdoors
Scotland may not be able to guarantee me sunshine, or offer me the beach conditions of the Caribbean, but it does provide me with the most stunning landscapes I have ever seen anywhere else, it has a mystic feel, a feeling of belonging and scarred by history, whether that be geological or man made. I am never short of things to do in Scotland, I enjoy walking the many mountains and spectacular glens, and discovering new places in areas I have never been to before. I find the whole experience of being outdoors in Scotland invigorating, it clears my mind and ignites my senses, I feel alive no matter the conditions. The Scottish outdoors is better than any spa I have ever sampled, maybe this is the reason I keep returning to Scotland,
Scottish History
Scotland has been torn apart over the years by politics and religion, and Scotland has risen and fallen throughout history, but never lay down. There is no other country in the world that retains its history so well, it never forgets, and this allows us all to enjoy historical sites from the Pictish era to more modern events like the Jacobite revolution. Just walking throughout the many glens and forest you can feel the history, its always there in front of you, a feeling of mystery, and wonder. There is so much more to learn about Scotland's history, and this is another reason that keeps me coming back to this proud historical nation.
Landscapes and wildlife
Scotland is a land of many contrasts, from the green lowland glens, to the magnificence of its dramatic mountains in the Highlands, it is within these wilds that you can discover Scotland's wildlife. You can find wildlife in all corners of Scotland, from the Puffins and seals of the west coast, to the Golden Eagles and Red deer of the Cairngorm Mountains. No matter what area of Scotland I visit, I always find an area of interest with a great chance of seeing wildlife. My particular favorites are the Scottish pine marten and sea and river otters, I have been lucky enough to view all of these animals in the wild. One of my wildlife ambitions is to see the Scottish Wildcat, I am sure I will be successful one day, and this is another reason why I still return to Scotland and always will.
Scottish Food and Drink
Scottish food may not be famous around the world, but with having local produce available from all parts of Scotland, particularly meat, fish and game, you are bound to experience fresh food at its finest. The seafood from the Highlands and Islands are the envy of many country, with a vast range of different types of fish and shellfish, Scots beef is also delicious in particular the Aberdeen Angus and Venison (the meat of the red deer) is some of the finest around. Special favourites of mine is Cullen Skink, a fish soup made from smoked haddock, potatoes and cream. I also love Scotch pies, Bridies and Haggis. With more and more restaurants opening around Scotland you can enjoy the taste of Scotland almost everywhere. Scottish Single Malt Whisky is another love of mine, I can't get enough of visiting distilleries, some I have visited numerous times, it's not just about the different tastes of the whiskies, it is also about the history and the process of making this drink that appeals to me. For me visiting Scotland always has to include a visit to a whisky distillery, much to the dismay of my wife, who by now as seen enough of them to last her a lifetime. It's not for everyone, but it is essential for me. Is this what keeps me coming back to Scotland?
Listing these reasons above has got me thinking more about why I love Scotland, and to be honest I could carry on writing many things. I think the real reason is "I just love Scotland" and everything the country has to offer. With working away from Scotland, I keep my connection to the country by writing, that is the reason I made the Holiday Scotland Website and recently joined forces with this website you are reading now. The websites keeps my love alive and being able to write about the wonderful places and sharing with others allows me to enjoy Scotland when I am not actually there. You can always say hello on our Facebook page, and share your enjoyment of this great country.