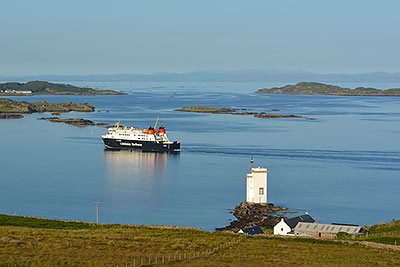 The Outer Hebrides and Inner Hebridean Islands of Scotland are a very popular tourist destination. The islands all have their own unique character and it's sometimes like visiting different countries when you hop from one island to another. As more and more folk take advantage of the RET scheme, (Road Equivalent Tariff), the islands become more and more popular and the amount of ferry space is coming under pressure. In recent years it was sometimes impossible to book a ferry for several days in a row on some of the popular routes to the Western Isles. We ourselves have been stuck on North Uist for three days due to a lack of available space on the ferries. Not that we had a problem with it, the weather was fabulous at the time, but it can give problems if accommodations are fully booked at the same time. The fact that more and more people take their motorhomes to the islands causes ferry space to fill up quickly too.
In the run up to the new summer timetables and the upcoming ferry tender LINK, Calmac have improved ferry services across the west coast for this summer after talks between Transport Scotland and the local communities. According to Calmac there has been extensive community consultation. "This is a major step forward in meeting the aspirations of the Uist community and indeed the outer island chain," said chairman of Storas Uibhist and spokesperson for Better Ferries For Lochboisdale, Angus MacMillan. "I would like to thanks Cal Mac and Transport Scotland for recognising the concerns and addressing these capacity problems. "These improvements will go a long way to setting in motion the longer term aspirations and we look forward to working closely with the ferry operator to deliver those."
Below is a list of the main enhancements for this year 2016:
A daily direct return service between Oban-Barra with a dedicated vessel, delivering a considerable increase in capacity.
A daily direct return service between Lochboisdale-Mallaig using a dedicated vessel.
An additional 50 weekly sailings on the Oban-Craignure route, with a second vessel supplementing the MV Isle of Mull.
Extra sailings on the Mallaig-Armadale route.
Estimated 14% increase in capacity on services to Coll and Tiree with as much as 30% at peak times.
Detailed amendments to the timetables made during the consultation process included: continuation of the tri island service between Tiree Coll and Barra, earlier and later departures for Coll, a change in vessel for Colonsay, increased capacity and frequency of service on the Mallaig Armadale route and the MV Loch Seaforth to carry out two additional weekend Stornoway Ullapool sailings. The summer timetable is now open for booking at www.calmac.co.uk