This, at first, may appear a bit strange, doing a review of a road. However, the Glen Etive Road is no ordinary road. If you could capture all of the magnificent points of Scottish scenery and condense them into a stretch of road that is only 12 miles long you would have the Glen Etive Road. As you drive close to the road itself you are surrounded by mountains which have the effect of both putting you in your place as far as nature goes, but also welcoming you home, you feel safe and secure as if watched over by these mammoths that have been here for since the ice age.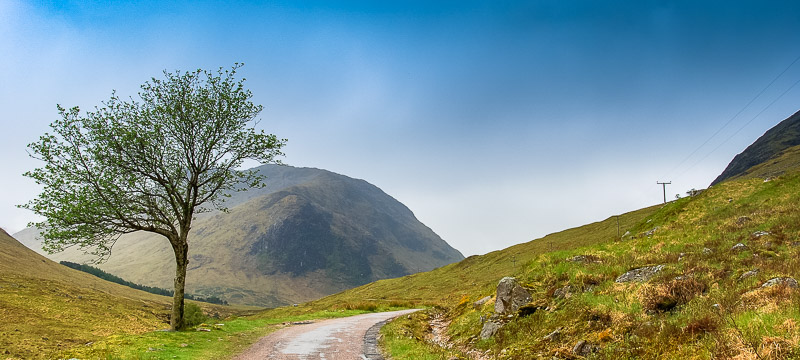 The road isn't very well signposted but as you pull into it you find the truly wonderful Buacchaile Etive Mor on your right hand side, I'm not sure what makes this mountain so iconic, maybe it's the almost triangular shape or maybe it is because it stands guard over this marvellous place. It is at this point I feel as if I should split this article into sections.
The First Five Miles of Glen Etive
This section of the road is dominated by The cascading River Etive as it winds it's way towards the sea and when there has been recent rainfall this river is what can only be described as wild with numerous waterfalls and drop offs, as well as water flowing down the mountains freely into the river. The amusing thing for me having driven this road on many occasions is this section gives away no secrets of what is to come, and to be honest if the road ended here I would drive home a very happy man. Now for a little word of caution, for those travelling to this area who plan on venturing out of their cars for a walk to the river… PLEASE wear the correct footwear as the ground is very boggy at best and footing needs to be sure, as I found myself recently when slipping down a hill wearing climbing boots. The highlight for me on this stretch is the waterfall about 4 miles, it is easily accessible and is a great place to sit and relax.
The Etive Forest
This is the second section of the road, the deep and beautiful Etive forest and this is where we enter the land that time forgot. The Road now starts to take quite drastic turns, highs and lows and that makes the drive, if anything, better. On this road, patience is a virtue as the whole road is single lane with passing places. If you encounter someone coming the other way and you're passing place is closer then move over and let them pass, you will always be rewarded with a wave and a thank you, such is the relaxed nature of this road. It's at this stage you'll find there are many paths leading off down to the now more tranquil river and as you walk down into the valley you will be gifted with some of the most magnificent mountain scenery you will ever see.
The Lochs of Glen Etive
As you come out of the forest area you pass a cottage known as 'The Smiddy' which is available for hire from 'Forventure" (information can be found 0141-959 9965 ) and it's now the forest starts to thin out and open up to a number of lochs including the awe-inspiring Loch Etive which is where the road ends and a small car park is situated. This is a perfect spot just to sit at the waters edge and reflect on what a wonderful thing nature is. From this point there is a makeshift path that runs along the Loch side for those who enjoy a walk into nature and the great thing about being at the end of the road is… You have the drive back. And remember as a wise man once said "Take only photographs, leave only footprints."
Map showing Glen Etive
This Article was written by guest writer Davie Hudson