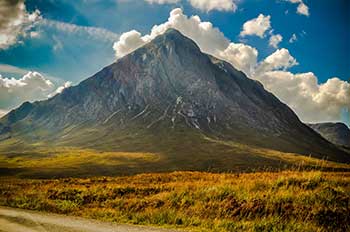 Scotland's Iconic Mountain, Buachaille Etive Mor
Buachaille Etive Mor, know in Gaelic as The Great Herdsman of Etive, is probably typical of what everyone thinks a mountain should look like, with its near perfect pyramidal shape it stands proud from the A82 before you arrive to the magnificent Glencoe.
Buachaille Etive Mor is seen in many Scottish books and postcards and is recognised instantly by every climber and walker with pride. The mountain forms a ridge combined with four other peaks that stretches for almost 5 miles, with the river Etive flowing wildly around its perimeter. The recognisable peak of Stob Dearg stands proudly at 1022 meters.
Kings House Hotel
The Mountain and its North Eastern face is the best viewed from the A82 road especially from the Kings House Hotel, the famous rock climb on the mountain named Crowberry Ridge is categorised as severe and should only be climbed if you are experienced and fully equipped, another alternative is the scramble up Curved Ridge and is very popular with climbers and scramblers. During the summer months you can enjoy a walk up the well worn path leading to Coire na Tulaich, this is a very steep path that will take you up onto the ridge not too far from Stob Dearg.

Buachaille Etive Mor is partnered to the west by its sister Buachaille Etive Beag and separated by the valley of Lairig Gartain, close by the Mountains is Glen Etive that follows a route to Loch Etive a great drive with many fantastic views. These views are very often admired by people on holiday to Scotland who will stop by in the many parking spots to just sit and admire the vistas, the environment changes with everyday and depending on the seasons and weather you can be assured it will look different each time you visit. Simply a wonder in Scotland that I feel everyone should visit sometime in their life.
Where is Buachaille Etive Mor