Although Scotland has great amount of wildlife to discover all over the country, it is always nice to have a closer view of the inhabitants of this great land. There are many wildlife parks and Zoo's in Scotland showcasing the many different types of wildlife in Scotland past and present, and also allowing visitors to discover animals from other parts of the world. We have listed below some of Scotland's well known Wildlife Parks and Zoo's.
Edinburgh Zoo
Home to over 1,000 rare and endangered animals, including the UK's only giant pandas. RZSS Edinburgh Zoo is packed with fun and un-zoo-sual things to do.Why not watch our famous penguin parade and visit the world's only Knighted penguin, Sir Nils Olav. Or spend your day learning about brilliant birds, mischievous meerkats, super strong sun bears and more with daily keeper talks!
You can experience and explore the animal walkthroughs bringing you closer than ever before to monkeys, lemurs, wallabies and pelicans. The Tiger Tracks enclosure brings you closer than ever to our Sumatran tiger – featuring a glass viewing tunnel as you come face to face with this beautiful feline. If in Edinburgh its most definitely worth a visit. More details are available at the Edinburgh Zoo Website
Blair Drummond Safari Park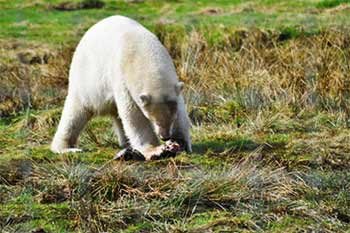 Blair Drummond is only an hour's drive from Glasgow and Edinburgh, and offers a great day out for all the family. There is a drive through section of the safari park that takes you past some animals that the kids will love, from Elephants and Rhinos to Lions and Giraffes. also within the park there are sea lion shows, meerkats and a pets farm. Other facilities you can enjoy are face painting and a small fairground, you can even enjoy a boat ride to chimp island. With great facilities Blair Drummond offers a great day out for everyone. Visit the Blair Drummond Website for more information
Highland Wildlife Park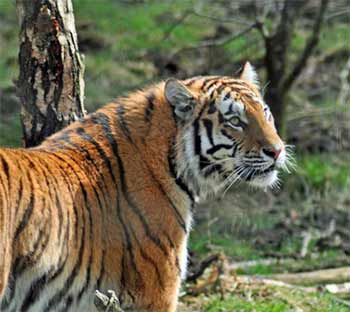 Highland Wildlife Park is owned by the Royal Zoological Society of Scotland (RZSS) and was founded in 1986. Highland Wildlife Park is set in the beautiful Cairngorms National Park and is home to over 200 animals, including native Scottish species as well as rare and endangered animals from the world's mountains and tundra regions. Become immersed in the natural surroundings of the park while looking out for some of its most famous residents, including snow leopards, European grey wolves and Scotland's only polar bears.
Daily keeper talks and animal feeds hosted by an expert team give visitors a unique opportunity to find out about endangered species like Scotland's elusive wildcats, and how you can help to save them in the wild. You can find more details at the Highland Wildlife Park Website
Black Isle Wildlife Park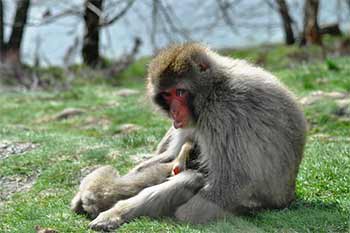 The Black Isle Wildlife Park is located close to North Kessock and only a short drive from Inverness. It is a nice park for kids to get close to familiar animals like deer, lambs and goats, and also has lots of gentle farm animals for them to enjoy. There is also a free train ride for the kids called the Tommy Tiger Train that will take you around a section of the park. On site there is also a gift shop and a cafe to enjoy sandwiches and drinks. Worth a visit if you want to keep the kids happy. More details are available on the Black Isle Wildlife Park Website
Camperdown Wildlife Centre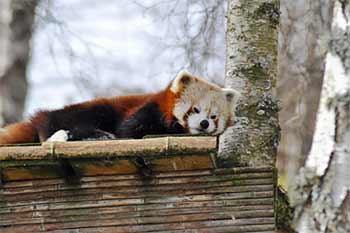 Located in Dundee the park gives you a chance to get close to many animals and birds including the European brown bear. Also view some of Scotland's more popular wildlife including the Golden Eagle and Highland Cow. The park provides an excellent family day out, and also holds an education programme for private groups, schools and colleges. During the winter months the wildlife centre holds an after dark adventure called wildlights, a light display with a difference that offers you the chance to see some nocturnal wildlife and a spectacular lightshow. Visit Camperdown Wildlife Centre Website for more information
Auchingarrich Wildlife Centre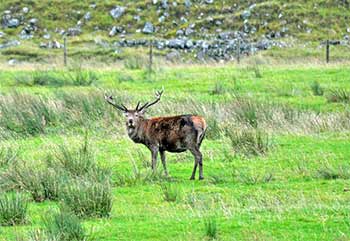 Apart from the animals the centre offers great facilities for the family, featuring an indoor play barn and mini golf. Displaying farm animals and exotic wildlife, the park, 20 miles north of Stirling, gives you the chance to get close and feed the animals, pony rides are also available at a great price. For those who enjoy fishing there is also a fishery on site where you can hire rods and bait for a great day catching trout. It is only a small park compared to some of Scotland's other parks, but offers lots of things to do during the day. More information available at the Auchingarrich Wildlife Centre Website
Deep Sea World
Deep Sea World is only 20 minutes from Edinburgh and located in North Queensferry, just under the Forth Rail Bridge. The aquarium offers the largest collection of Sharks in the UK, and you can have the chance to dive with these magnificent creatures, if you are brave enough. The rain forest exhibit gives you the opportunity to experience life in the Amazon, with tropical frogs and the chance to see piranha and electric eels. The kids will just love the seal enclosure where they can get close to Scotland's grey and common seals, and the underwater safari offers a 112 meters of underwater adventures, and one of the longest in the world. Altogether the centre offers a fabulous experience and will give you a day to remember. More details are available at the Deep Sea World Website
Discover Amazonia
Discover Amazonia is Scotland largest indoor tropical rainforest and home to over seventy different species, from parrots, monkeys, snakes and butterflies. Located in Strathclyde Country Park, Motherwell, the centre offers an experience of a tropical climate, together with the animals and birdlife for a great day out. Amazonia interactive is educational and fun, where you can learn about all the wildlife of the Amazon, and lets you digitally interact with monkeys and insects. There is a handling area offering the chance to get close and personal to some of the animals, and sessions are available throughout the day. Some great facilities are available and great access for disabled visitors. Find out more about Discover Amazonia at their Website
St Andrews Aquarium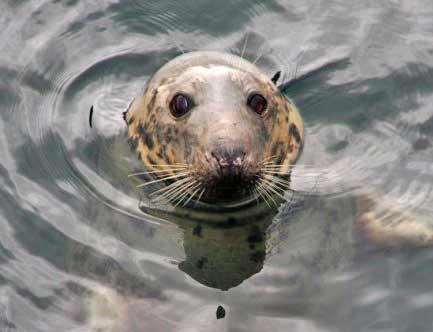 Located on the north facing cliffs of St Andrews in Fife with great views of St Andrews Bay, this excellent aquarium gives you the chance to see some of the world's great sea life. You can see the Humboldt Penguin from South America or visit some of Scotland's Harbour Seals, but if you prefer something more exotic you can view some of the tropical fish like the Lionfish or even an Octopus. Although this is primarily an aquarium there is an excellent opportunity to see the meerkats and is a firm favourite with the kids. There are good facilities available with Steprock cafe and a gift shop. Find out more about St Andrews Aquarium at their Website
Sea Life Loch Lomond
Set only 30 minutes from the city of Glasgow, and situated on the lovely shores of Loch Lomond, this sea life centre is a great day out for everyone. View the stunning green turtle in the ocean tunnel, the only green turtle in Scotland, and can live up to 100 years old. Other creatures you can see are the octopus and the black tip reef shark, if you prefer the more gentle fish you can see the clownfish also known as "Nemo". For the kids there is a touch pool where you can view the many creatures that live in our rock pools around Scotland. Well worth a visit if you are in Glasgow or staying in the Loch Lomond area. Find out more at the Sea Life Website