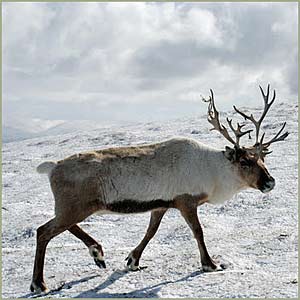 Reindeer were re-introduced to Scotland in the Cairngorm Mountains in 1952 by a Swedish Sámi by the name of Michal Utsi. The Cairngorm Reindeer are the UK's only free-ranging herd, and they roam the slopes of some of Scotland's highest peaks, feeding on the only sub-arctic territory in the UK. As a herder it was my job to 'roam' out and locate them throughout the year. These reindeer are still managed today in much the same way as they were when Mr Utsi brought them here. They spend almost their entire life on the mountains with minimal fuss needed from the herders.
The herders know each reindeer by name, and they are so tame they come running when you call them. Despite this, they are incredibly independent, and are only really comfortable in these wild environments. However, all of them must make a living somehow – and each of the male reindeer are trained to pull Santa's sleigh! They will all take it in turns to pull Santa in street parades throughout the UK during the festive period, before returning to the slopes for the rest of winter.
As an Arctic animal, they are found in the worlds harshest environments. But their range enabled the people of the Arctic to survive there too as they took on the role of cow, horse, sheep and goat: reindeer pull sleighs of people, packages and houses; their pelts provide the best thermal clothing; their solid antlers are valuable tools; they provide meat and even milk; in some parts of the world they are even ridden.
What better animal to make it around the world and back in one night?
From this place I wish you all a very happy Christmas and a great 2012. Thanks for visiting my website and blog.