It could perhaps be interesting to compare the Scottish cities of Edinburgh and Glasgow but when you've visited them both you know it doesn't make real sense, they are a world apart and that's why you should visit them both to find out for yourself. But If you really want to bring it to the point I think it's safe to say that Edinburgh is more of a Tourist City and Glasgow a People's City. Let me explain.
Edinburgh is a stunning city, probably one of the prettiest in Europe, with Edinburgh Castle proudly situated at the top of the Royal Mile and the seat of the Scottish Parliament and Holyrood Palace roughly at the bottom. It's a town full of architecture, tradition and visitor attractions and it has a rich past. When you walk around the city the sound of the pipes is often heard, quite in contrast with Glasgow where two or three man bands play modern tunes in the busy city centre. Edinburgh is visited yearly by millions from all over the world. So chances are that when you talk to someone it's likely a tourist and not a local. And with a lack of many shops Edinburgh is not a real shopping city, so that's why it's a real tourist city to me.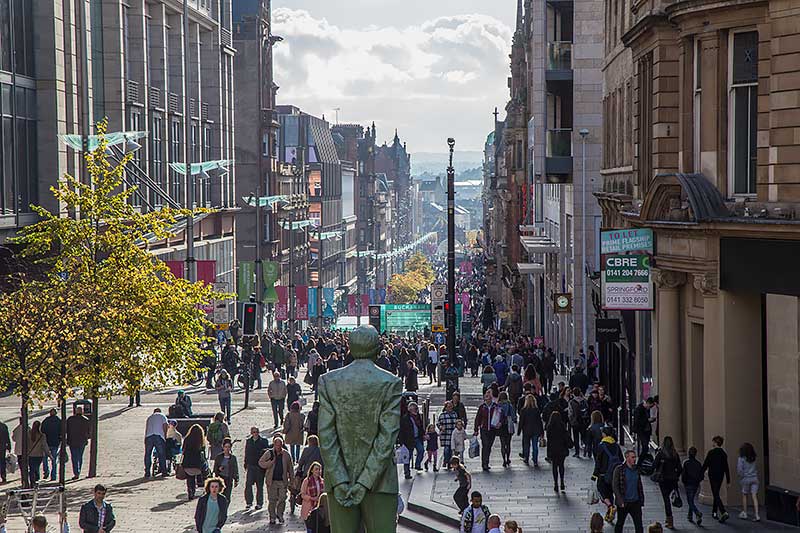 Glasgow on the other hand also has a very beautiful city centre with great architecture but in contrast with Edinburgh it has many more shops, mostly spread over Buchanan Street, Argyll Street and Sauchiehall Street, also referred to as the "Style Mile", and west end. There are also several indoor shopping centres such as Buchanan Galleries, St Enoch Centre, Argyle Arcade and Princes Square. Ingram Street is located just off George Square in Glasgow city centre where you'll find The Italian Centre which is home to several designer shops. That makes Glasgow the best city for shopping in Scotland and possibly one of the best in the UK.
There is however a lot more that makes Glasgow a fascinating city, it's also the history, the stunning buildings, the culture, the many things to see and do and last but not least the people. The chances that you meet a local in Glasgow are somewhat bigger than in Edinburgh. The locals, the Glaswegians, are friendly, helpful and they have a good sense of humour. It's for a large part because of them that Glasgow is a very welcoming city with a pleasant atmosphere. That's why I like the new chosen slogan, People Make Glasgow, so much. Back in 2013, when the new slogan was chosen, Council leader Gordon Matheson said: "The new slogan reflects the Glaswegian character. It's bold, friendly, confident, and it evokes a real sense of pride, the people of Glasgow are at the heart of this brand." A well chosen slogan which reflects the great atmosphere and friendly folk in the city. For me Glasgow is a People City.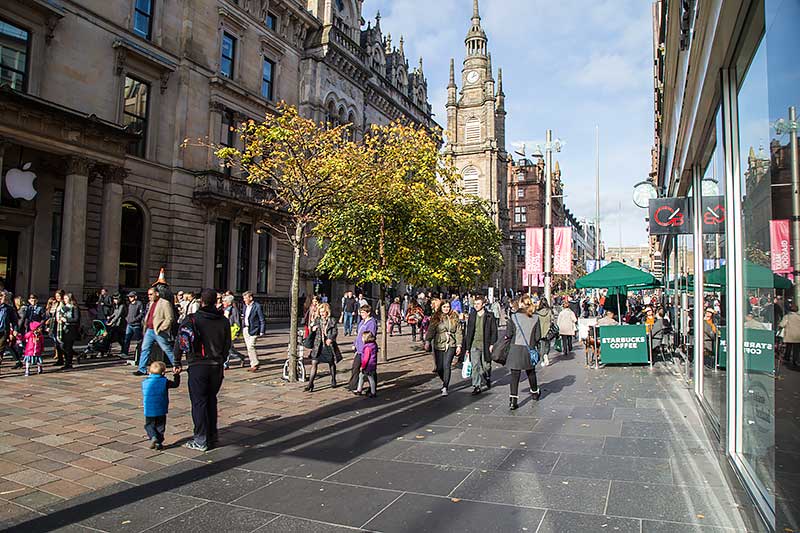 If you've never been to Glasgow make sure you visit next time you're in Scotland. There are plenty of car parks in and around the city centre if you travel by car, see www.cityparkingglasgow.co.uk. If you are reluctant to enter the city by car why not try the bus, subway or train. There are several park and ride places in villages and towns around Glasgow and further afield, all with excellent connections to the city. Check www.parkandride.net for your nearest Park and Ride location. Scotrail runs an excellent service with mostly modern coaches between most major cities and towns. This is a very interesting option as Glasgow has a few train stations in the heart of the city, Glasgow Central Station, near Buchanan Street, and Queen Street station next to George Square. For info on trains and the Scottish Rail network visit www.scotrail.co.uk. Have a great time in Glasgow!