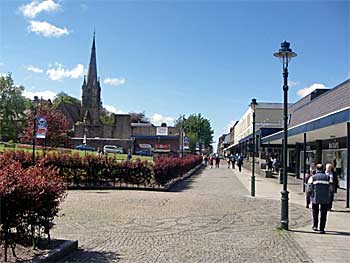 Lochaber, a former Highland local government district, is a large and scenic area of the Scottish West Highlands. The popular town of Fort William on the north side of Loch Linnhe and the Ben Nevis mountain range are the most important tourist destinations. The area of Lochaber includes Fort Augustus in the north, the Ardnamurchan, Morvern, Arisaig and Morar and Knoydart peninsula's in the west, the impressive Nevis range in the centre and Glen Coe and Rannoch Moor in the east.
Fort William
Fort William is a major tourist centre sitting on the banks of Loch Linnhe and on an important crossing between the A82, running from Glasgow to Inverness, and the A830 heading west, also known as "The Road to the Isles".
Related info
The Road to the Isles – Arisaig Morar and Mallaig – Guide to Glencoe
Fort William is an important centre for hillwalking and climbing due to its proximity to Ben Nevis and many other Munro mountains, marketing itself as the "Outdoor Capital of the UK". It is also well known for its nearby famous Downhill Mountain Bike Track and its connection to the West Highland Way from Glasgow and the Great Glen Way; a walk/cycle way from Inverness to Fort William through the Great Glen. Popular as it may seem, for many visitors Fort William is not their thing. The town is busy and offers endless bed and breakfasts along the main road, but lacks somewhat of the charm of other, smaller, Highland towns and villages.

Ben Nevis Panorama
Ben Nevis
Ben Nevis is the highest mountain in Scotland, and the British Isles. Ben Nevis attracts an estimated 100,000 ascents a year and a large number do so using the well-constructed Pony Track from Glen Nevis on the south side of the mountain. The summit, at 1,344 metres (4,409 ft) above sea level, features the ruins of an observatory, which was permanently staffed between 1883 and 1904. The meteorological data collected during this period are still important for understanding Scottish mountain weather.


Glen Coe
Glen Coe
Glen Coe is often considered one of the most spectacular and beautiful glens in Scotland, and is a part of the designated National Scenic Area of Ben Nevis and Glen Coe. The narrow glen shows a grim grandeur and has a bloody history. The glen, approaching from the west at the main village of Glencoe n the main A82 road, has a softer beauty just after the main entrance to the glen. To the east the glen becomes surrounded by wild and precipitous mountains. A famous mountain range halfway the glen is "The Three Sisters" consisting of three similar and grim looking mountains. Further east is the Glencoe Ski area opposite the Kingshouse Hotel, a traditional Highland Hotel and a highly recommended place to stop. Further east is Rannoch Moor, one of the most remote and desolate areas of Scotland. Rannoch Moor is a large expanse of around 50 square miles (130 km²) of boggy moorland to the west of Loch Rannoch and is designated a National Heritage site. Visit our Guide to Glencoe
Arisaig and Morar
These two areas make up the western half of a peninsula that stretches from Moidart in the south to the remote Knoydart peninsula in the north. The villages of Arisaig, Morar and Mallaig are the largest settlements. The latter is a fishing village and the last station on the West Highland Line. From Mallaig ferries leave for the Small Isles and the Isle of Skye


Morar Sunset from Camusdarach Beach
Small Isles
The Small Isles are a small archipelago of islands in the Northern Inner Hebrides, off the west coast of Arisaig and Morar. They lie south of Skye and north of Mull and Ardnamurchan – the most westerly point of mainland Scotland. The four main islands are Canna, Rùm, Eigg and Muck. The largest is Rùm with an area of 105 square kilometres. The Small Isles

 Further Information:
Accommodation in Fort William
Ben Nevis Gondola
Glenfinnan Monument and Viaduct – Glenfinnan
Jacobite Steam Train – Fort William to Mallaig
West Highland Museum – Fort William
Tourist Information for Fort William and Ben Nevis