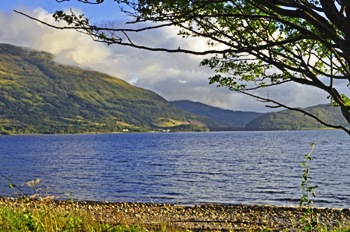 Loch Linnhe in Scotland has a special attraction to photographers due to its fantastic scenery and sunsets. Not only photographers enjoy this unique location the area offers many other outdoor activities like kayaking, fishing, sailing and walking.
At 31 miles long and about 1.2 miles wide it stretches past Fort William, fed from the North by Loch Eil and continues south as far as the Firth or Lorne, the Loch is fed from the East by Loch Creran and opens up into the Firth of Lorne at its South Western point.
Loch Linnhe Wildlife
Wildlife in the Loch is in abundance with many seals taking advantage of its small islands throughout its length; also popular are porpoises, Dolphins and many sea birds you could even see Golden Eagles soaring above. A great way to take advantage of the scenery is to take a trip from Fort William with Crannog Cruises, the cruise will give you the chance to see Britain's highest Mountain Ben Nevis from the loch, and will take you to Seal Island to see the Common and Grey Seals. Another good way to see the loch is to simply drive around and pull over at the many parking areas around the Loch.

The Corran Ferry
You can also take the Corran ferry across the Loch that will give you access to Ardnamurchan point and many other lovely areas to visit. The Corran ferry can be found on the Fort William road to Onich only about a 10 minute drive from Fort William. Another nice place to view the Loch is the Ballachulish and Onich area where you can stop at the lovely pebble beaches and take excellent photographs. The Ballachulish Bridge is also the opening to Loch Leven that will also please you with a wonderful 14 mile drive via Kinlochleven and back to Glencoe village/Ballachulish area.
The road to Oban that runs alongside Loch Linnhe and is also worth the drive and this will take you past Castle Stalker where the Monty Python film the Holy Grail was filmed, set on its own Island and only accessible during low tide, great pictures can be taken from the castle Stalker View café just on the hill above the Loch.
The Loch provides many choices of accommodation from Hotels to Campsites all set in spectacular areas around the Loch.
Where is Loch Linnhe