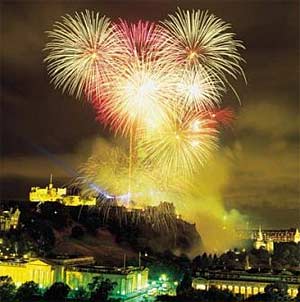 While New Year's Eve is celebrated around the world the Scots have a long rich heritage associated with the event and even have their own word for it – Hogmanay. Theories abound about the derivation of the word 'Hogmanay'. The Scandinavian word for the feast preceding Yule was 'Hoggonott', while the Flemish words – many of which came into the Scots language – 'hoog min dag' means 'great love day.' Hogmanay could also be traced back to the Anglo Saxon 'Haleg monath', holy month, or the Gaelic 'òg maiden', which refers to 'new morning. But the most likely source seems to be the French 'Homme est ne', translated 'Man is born.' In France the last day of the year when gifts were exchanged was called 'aguilleneuf', while in Normandy presents given at that time were known as 'hoguignetes.'
In Scotland a similar practice to that in Normandy was rather disapprovingly recorded by the Church in the Scotch Presbyterian Eloquence of 1693 thus: It is ordinary among some Plebians in the South of Scotland to go about from door to door on New Year's Eve crying Hagmane.' Some historians believe that we inherited the word from the Vikings who, coming from even further north than ourselves, paid much more attention to the passing of the shortest day. In Shetland, where the Viking influence is at its strongest, New Year is called Yules and taken from the Norse language.
Christmas was not celebrated in Scotland and was virtually banned and with most Scots required to work over the Christmas period. Their important winter solstice holiday was the New Year when family and friends gathered to party and exchange gifts and this became 'Hogmanay.' Among the traditions associated with the festivity is the practice of 'first footing', (the first foot in house after midnight) and this continued until the advent of television and its toe-curlingly bad Hogmanay programmes began to make inroads into the social habits of the communities. Considered to be the ideal 'first foot' was a dark haired male who was guaranteed to bring luck to the household. This was a throwback to Viking raids when the arrival of a blonde stranger on your front step often spelled trouble!
Among the 'first footer's' gifts were symbolic coal, shortbread,blackbun and whisky. Hanselling was the custom of giving gifts on the first Monday of the New Year, but this tradition has long since died out. In the last 50 years the celebration of Christmas has increased in popularity in Scotland and has largely eclipsed the New Year festivities throughout the country. But be it so ever low key now it still remains part of a long established custom and the Scots world-wide continue to have an affinity with the traditions surrounding the ancient pagan festival of Hogmanay.
HAPPY NEW YEAR EVERYONE