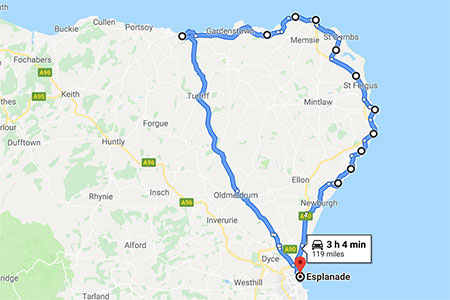 The north eastern coastal area of Aberdeenshire is without a doubt one of Scotland's finest and is perfect for a coastal Driving Tour. We'll show you the highlights and have some interesting tips to share!
This part of Scotland is somewhat more cultivated than the wilder west coast, perhaps a bit more charming, more inhabited and certainly less remote. You are never more than a 1.5 hour drive away from either Aberdeen or Inverness wherever you are at the north east coast. That doesn't make it a very busy area though as tourists easily spread out over the many pretty coastal villages and the many excellent roads. This part of Scotland is very rural, it also has the largest fishing town of Scotland (Peterhead), and you can find dozens of smaller and larger pretty villages dotted along the entire coast.
Aberdeen to Banff Driving Tour
In this Driving Tour I will take you from Aberdeen City to Banff as this distance is perfectly suitable to cover in one day in which you can see see most of the sites and villages mentioned here.
Some practical info before we start: The total mileage is roughly 120 which includes the return trip. Without stops you can do this in 3.5 hours, visit most of the villages and attractions and you'll need around 10 to 12 hours. The part from the Aberdeen Esplanade to Banff is 75 miles. You can check out this route on Google Maps
Start at Aberdeen Esplanade
The Aberdeen Esplanade starts just north of the Harbour Area and is usually a busy place with folk coming here for a stroll along the shore. Aberdeen is the heart of the Scottish Oil Industry and you'll likely see plenty of related shipping activities. Drive north over the Esplanade towards the A92 which you then follow north. On your right you'll find several golf clubs in the dunes including the much disputed one of Donald Trump. After a few miles you can take the exit and head for Newburgh. You are now driving through the Forvie nature reserve. Just before you enter the village of Newburgh, on the Newburgh Golf Course, you can park and head across the dunes to watch the seals. You can get close by and there are lovely walks along the coast and in the dunes.
Collieston to Peterhead
Follow the main road north, the A975, and make sure to stop in Collieston after a few miles. Collieston is a former fishing village. It has a small beach, a pier and is lovely for a walk and to admire the views. From Collieston follow the coastal route towards Cruden Bay. Halfway you'll pass Whinnyfold, a tiny village and the place where the pipeline from the oil fields on the North sea enters the Scottish Mainland. From here the oil is pumped towards the Grangemouth refinery near Falkirk. You can now see the beautiful beach and bay of Cruden Bay, a lovely village with some shops, a harbour and a castle, Slains Castle to be precise. This castle was used as inspiration for the novel Dracula by Bram Stoker. A visit is highly recommended, if not for the castle then for the beautiful views.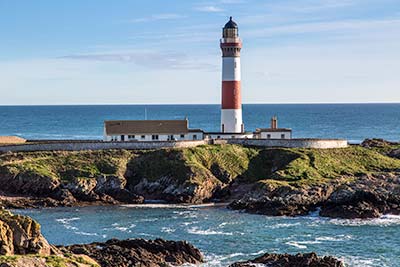 After Cruden Bay you can join the A90 north again until Boddam, a small fishing village and home to the Buchan Ness Lighthouse, with 36 metres high and a red band in the middle a beautiful landmark.
Head north again and make sure to visit Peterhead, a bustling fishing town and in fact Scotland's largest fishing town and one of the largest fishing towns in Europe. Have a look at the harbour area and if you're interested visit the Arbuthnot Museum, it shows Peterhead's rich maritime history. Peterhead is also the largest settlement in Aberdeenshire with a population of well over 18.000.
RSPB Strathbeg to Fraserburgh
As you leave Peterhead behind you the landscape is changing as you're now driving more inland. This is due to the large RSPB Reserve of Strathbeg, an important home for pink-footed geese in the winter and many other waders. This reserve has a visitor centre, some observation areas and there are footpaths which give access to the reserve. If you follow the coast you'll pass two smaller villages, St Combs and Inverallochy before you arrive in Fraserburgh. Make sure to enter Fraserburgh on the south east side, there's a beautiful beach, excellent for a lovely walk. Fraserburgh itself is a nice wee town with a large harbour and a lovely centre with shops, restaurants and a hotel, perfect to enjoy your lunch as you're now halfway. A museum worth visiting is the Lighthouse Museum.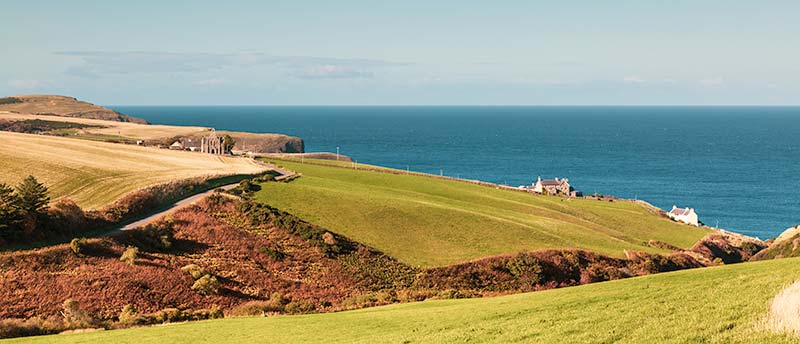 Heading West to Banff
As you are heading west following the coastal road, passing the villages of Sandhaven and Rosehearty, the Aberdeenshire coastline will now show a different face. Rolling hills, steeps cliffs and picturesque bays are yours to discover. Make sure to keep on driving as close as possible to the coast, it has the most beautiful wee roads and impressive views. A mile before Pennan is St. Drostan's Well, a natural well. Pennan itself is famous the world over from the Scottish Film "Local Hero". If you haven't seen this film I recommend you to do this first and then visit Pennan, it's great. The descent to Pennan is quite steep so I'm not sure if this is suitable for motorhomes. The village itself is stunning and most houses are built with the gable ends towards to sea, it can get rough here! You won't find many locals here as most of these houses are second homes and holiday homes but if you do see them, have a chat and ask them about the time the film was shot here!
Wildlife enthusiasts are recommended to visit RSPB Reserve Troup Head. Here on the high cliffs is Scotland's largest mainland gannet colony. Also to be seen are kittiwakes, razorbills, guillemots and puffins. From the cliffs you can also spot dolphins or minke whales! There is no visitor centre here but you can park and go for a walk.
Next up is Crovie. If you thought Pennan was built close to the shore wait until you're in Crovie. But be aware that there is only a footpath here, parking is available outside the picturesque village, which is best to be admired from the cliffs higher up. From Crovie it's less than a mile to Gardenstown, a lovely, sleepy village with a pretty harbour. On a sunny day you can just sit here at the harbour-side and enjoy the scenery with an ice-cream. Bliss!

MacDuff and Banff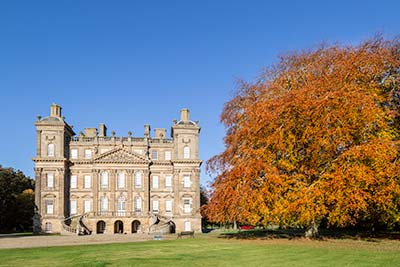 From Gardenstown take the b9031 west for 7 miles to reach the final destination. Here at the mouth of the River Deveron you'll find two towns on either side of Banff Bay, the bustling towns of MacDuff and Banff. MacDuff has a marine aquarium which is very much worth visiting and a large harbour. The main attraction of Banff is Duff House, a Georgian estate house in the care of Historic Scotland, it is part of the National Galleries of Scotland. Banff town centre is also known for its architecture and several old houses.
From here you can return to Aberdeen or continue further along this fascinating coastline to places like Lossiemouth and Nairn, but we'll cover those in a future article.