The area to the west of Aberdeen, stretching as far as Braemar, is not known as 'Royal Deeside' for nothing. In case recent Jubilee celebrations have eclipsed all thoughts of any other British royalty, let's go back a bit and remember Queen Victoria who, in 1848, along with Prince Albert, first visited, and fell in love with, the Balmoral Estate on Deeside. The present royal family has an equal love for this historic area and takes every opportunity to spend time at Balmoral. And now you can follow in the footsteps of all these generations of royals and visit the picturesque Dee and Don valleys yourself with the handy Victorian Heritage Trail to point out all the best bits.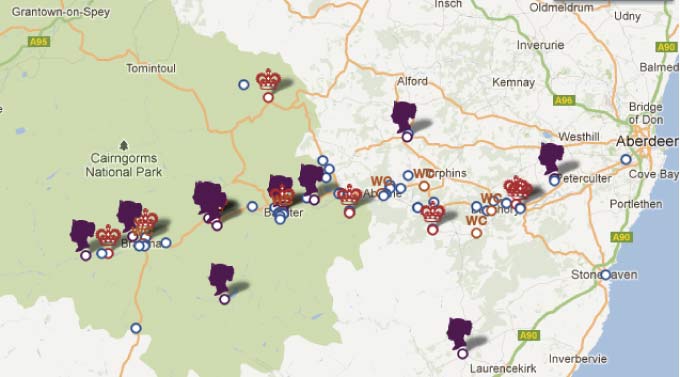 Map of the Victorian Heritage Trail in Aberdeenshire
There is a website (www.discoverroyaldeeside.com/vht) with all the information you need to follow the brown signposted official trail, but look out for the other points of interest marked on the map with red crowns to find even more places steeped in Victorian Heritage. Most of the places to visit are close to the river Dee between Aberdeen and Braemar but there are a couple for the real Victoria enthusiasts just a wee bit off the beaten track.
Heading west, stop in at the Royal Deeside Railway at Milton of Crathes. This track, which originally ran from Aberdeen to Ballater, served generations of the Royal Family and crowned heads of Europe including Queen Victoria and the Tsar of Russia before closure in 1966. A one-mile stretch has been restored allowing trains to run once more which is something of which I'm sure Queen Victoria would have approved. Check the website (www.deeside-railway.co.uk ) for steam days for the most authentic experience. The restored 17th century buildings at Milton of Crathes house craft shops and a tearoom so all in all this is a great stop on the Victorian Heritage Trail.
Turrets, bats and ghosts make nearby Crathes Castle the perfect location for a Victorian gothic novel, but you'll find a day out here far from horrific so don't worry! The castle, shop and tearoom are fantastic but perhaps the gardens and the huge grounds with various walking trails are the biggest draw here. Its stunning four-acre garden features plants and trees brought back from the Victorian lairdâ•?s plant gathering trips to North America, including a 40m tall Giant Sequoia.
Don't miss the Queen's View, just north of the Dee, which is said to have been Queen Victoria's favourite vista taking in Lochnagar, Morven and Mount Keen, but then get back to Deeside for the next stop on the trail – Ballater. This town has more By Royal Appointment warrants – a mark of excellence first used in Tudor times but popularised by Queen Victoria to certify high quality – than any other comparable place in the world. The main attraction here is the Ballater Old Royal Station whose visitor centre commemorates Queen Victoria's visits with the unique royal waiting room and a replica of the royal train carriage used by Victoria in 1869. And if that wasn't enough to earn its Victorian credentials, Ballater is home to Victoria Week held annually in August.

Balmoral Castle
A few miles along the road is Crathie Kirk. In 1893 Queen Victoria laid the foundation stone for the present Crathie Kirk and it remains a place of worship for the Royal Family today. It's where Princess Anne was married to Timothy Lawrence in 1992. While there, don't overlook the kirkyard which is the burial ground of many members of the Balmoral household, most notably Queen Victoria's servant John Brown. Several headstones have personal epitaphs from Queen Victoria. Interesting reading.
Don't dwell too long here, though, as the prize is just round the corner of Balmoral Castle. This distinctively turreted castle sits serenely in the valley and is now equally synonymous with Queen Victoria, who famously called it "my dear paradise in the Highlands", and the current royal family which still holidays here every year. The original castle was purchased by Queen Victoria and Prince Albert in 1852 and promptly demolished! Albert helped with the design of the present Balmoral which was completed in 1856. It is possible to visit but grounds, gardens and exhibitions are open daily April to July only. Well worth it though, especially for a close up view of HRH's holiday home and the changing exhibitions this year with a diamond theme of course!
Nine miles up the road is the end point of the Victorian Heritage Trail Braemar. A great town for pottering around in, with tearooms, pubs and gift shops aplenty, Braemar has serious Victorian connections. The famous Braemar Gathering 'the Highland games' were held at Braemar Castle when the Queen became patron in 1848. These games were later moved to The Princess Royal and Duke of Fife Memorial Park but are still attended by royalty every year.
Perhaps the most stunning of Victorian sights, and Braemar's sights, is nearby Mar Lodge Estate which occupies nearly 7% of the Cairngorms National Park, covering in total nearly 30,000 hectares of some of the most remote and scenic wild land in Scotland, including four of the five highest mountains in the UK. Nestling in the middle of this wonderful estate, like a jewel in the crown, is Mar Lodge itself – Queen Victoria's grand daughter Princess Louise's hunting lodge. This magnificent building in pink is now split into luxurious self catering apartments so you too can royally live it up!
And we are at the end of the Victorian Heritage Trail already! No time here to mention everything but amongst the big hitters don't forget to stop off at these wee gems of scenery, culture and history combined: Drum Castle, Glen Tanar, Finzean Estate, the Cambus o'May bridge, Fettercairn, the Lonach Gathering, the Royal Lochnagar Distillery, the Linn of Dee and Glen Muick. We know there was enough in the area to satisfy Victoria for many years, and indeed the royal family has followed in her footsteps and does not seem to tire of it. So by royal decree, is it not time you visited this majestic part of Scotland yourself?