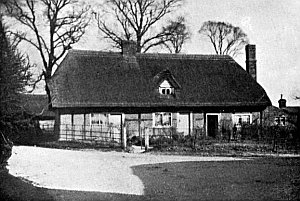 I found this story many years ago and published it on the former Scotlandview blog in february 2006. It's a great story and I'm sure Tom, the old man in the story, isn't the only one that never left his home. I know of an older woman on Islay who lives in Portnahaven and never travelled to the other side of the island in her entire life. People from a younger generation can't imagine such a life could have ever existed and that makes it perhaps all the more interesting to read. Enjoy!
The 20th Century has been a time of massive change for people all around the world. There have been two World Wars and countless other conflicts, and the invention of phones, TVs and computers. Global travel has been made easy with the jumbo jet and man has even walked on the Moon. But all these events and opportunities to travel have passed by 90-year-old Tom Stuart. An undertaker to trade, he has spent no more than two nights away from his home in Glenlivet, Moray, in his life. He has little interest in the news, cares less about politics and would rather meet his friends from the village than go off exploring to the big cities to the south. He grudgingly admits that the advent of electricity arriving in the village, in 1937, did change his life. It meant he no longer banged his head off the paraffin lamps suspended from the low cottage ceiling. The only other thing that made a difference was the family's decision to get an inside toilet.
Peering out of the window of his home, he says: I have been looking out of this window for 90 years and learned more from that than any newspapers or moving pictures on the television. My elder brother fought in the war but I don't think it ever really affected us back in Glenlivet, not like elsewhere. I was never interested in what happened far away. We took the changes as they came to our village, and we were grateful for them. But change comes to you without you seeking it out. He is one of a dying breed, a man who was born, lived in and will one day pass away, under the same roof. His father bought the house in 1888. The previous owner was forced out after the factor of Glenlivet Estate caught him poaching. The Stuarts moved in and set up as the village undertakers, earning them much respect from fellow residents. Read more…..
Tom was born in there on June 21, 1909, four years before his sister, Cissie, passed her General Post Office exams and set up as the village's post-mistress, working from a room their father converted at the home. When the World War I arrived, Tom was still at school. But he left far earlier than the youth of today. He said: I was never a scholar. I left school when I was 14 and started work with my father, the third generation of undertaker in the family. My first job was going round with a bottle of whisky when everyone came to a wake, making sure they all got a dram. But I have never tasted the stuff myself.
The job took him away from home for the first time one stormy evening in the early 20s, when he had to stay with a body overnight to make sure it got to its lair the next day. He said: That was my first night away. I might have been away a night since, but never more. The year Neville Chamberlain was made prime minister, 1937, was when electricity arrived at his home. He admits: That was one of the biggest changes in my life. We always had water in the house, with an outside toilet though, but the electricity made a difference. He married Eliza in 1944 in a simple ceremony with no honeymoon. Together, they had two children Carol, 51, and Valerie, 53, one of which became a teacher, the other going to Paris and onwards around the world. But that wasn't for Tom. He said: I have never been on holiday. I seemed to be quite happy here. I enjoyed doing the work and made a lot of friends. I had everything I needed right here and my wife felt the same. Sadly, she died two years ago, leaving him with only memories of their courting, her work behind the Post Office counter, the special times they had together.
He moans about some of the things that happened in that time, in particular the growth of television, which he blames for the downfall of man. He said: Television destroyed local communities and families visiting each other when it arrived on the scene. He retired a decade ago, though would have made it much earlier had it not been for the fact he promised friends he would take care of them in death. He said: Don't think I'm boasting, but I was always a popular undertaker. There were people who I'd promised to see to their burial arrangements. I kept it on until about 10 years ago then gave it up. The Catholics started taking the body into the chapel the night before the funeral, instead of straight from the house. It was the start of a new way of things, that's when things really changed for me. Some may question why, in this era of new technology, cheap flights and fast food, a man would want to live the simple life, a sheltered existence. Tom laughs: I wouldn't change a thing if I could go back and do it all again. I was happy, I suppose I'm a dying breed. It's fate that decides what's before you, there's no point taking too much notice of what you can't control. This was my fate. The new millennium will no doubt be a time when we witnesses more technological advances, and no doubt the cyber family. But Tom, content with his lot knows it's not for him, and says: People won't live this way again.