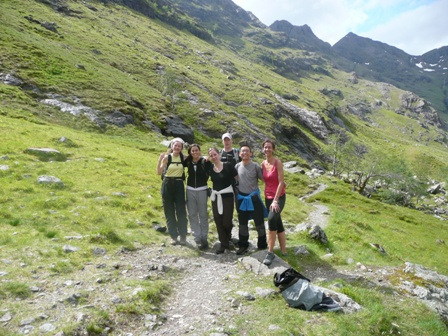 Glencoe is famous throughout the world for many reasons.  There's the huge depth of history, the stunning scenery and the world class mountaineering and walking.  Although lots of people know Glencoe as a full on mountaineering destination there are lots of easier, more accessible walks too – if you know where to go!
Walking in Glencoe
One of my most popular walks is a lower level half day trip starting at beautiful little Loch Achtriochtan at the foot of Glencoe's highest mountain.  The history has it that there was a water monster here too – not as big as Nessie as you will soon see!  This is also one of the most photographed spots in Scotland and you'll recognise the scene as we move through the landscape.  The Aonach Eagach Ridge sends it's serrated teeth soaring above us on the other side of the glen.  We'll walk past the old farm of Achtriochtan where sheep are still farmed and then slowly wind our way up into the magnificent Lost Valley.  The trail here rises above a beautiful stream with waterfalls and crystal clear pools where the seldom seen otters reside.  The stories have it that the MacDonald clan hid their rustled (stolen) cattle here and you'll soon see why.

With a break for lunch in the Glen itself there's always the chance of seeing a Golden Eagle and there are fantastic views of the higher mountains all around us.  We can explore the maze of gigantic rocks, walk farther up the valley or just relax and take in the surroundings before descending back into Glencoe where the walk finishes.  The walk down is as stunning as the walk up was strenuous!  The views back down into Glencoe through the narrow chasm of the valley highlight the mountains opposite and it's always fun to spot the walkers and climbers dotted around.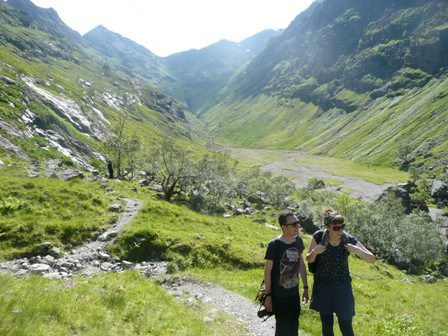 Glencoe Guiding Services
I also offer other guiding services, with scheduled walks you can join most weeks for £20pp (half day) and £35pp (full day).  I'm very family friendly and offer discounts for children.  I offer ad-hoc guiding too so if you have your sights set on something else, or would like to get out on a day we have nothing planned, please contact us and I will do our best to help.  I've been all over Scotland and can offer everything from lower level walks like sections of the West Highland Way or a trip up the UK's highest peak Ben Nevis!  Maybe you've always wanted to see sunrise from the top of a mountain or are a photographer looking for some great shots.  With an early start and some good weather I can take you to the top of the mountain in time!  Full day rates start at £120 so for groups can work out very reasonable.
I'm based right in the heart of Glencoe at the accommodation business I run too. You can choose from our communal hostel or bunkhouse which are great places to meet people, or have more privacy in our new pet friendly caravans or log cabin.  We welcome groups, families and individuals and offer great value with fantastic views over the surrounding mountains and walks straight from the door. We have free wifi in reception, lots of local information and a top class drying room should you get wet!  Have a look at our website www.glencoehostel.co.uk for more information.
You don't need to stay with us to use the guiding services though – everyone is welcome!
For more information about Guided walks in Glencoe visit Glencoe Guiding
The starting point for many of our walks