When it comes to fairy tale weddings, Scotland is the ultimate destination with its unique combination of history, tradition and romance. As well as boasting spectacular natural landscapes and the most magical castles in the world, Scotland's past is bursting with passionate and romantic figures such as Sir Walter Scott, Robert Burns, Bonnie Prince Charlie and Rob Roy.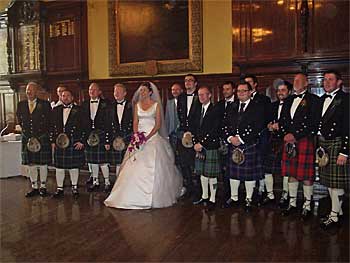 No wonder Madonna chose to become Mrs Ritchie at Skibo Castle in the Highlands. But while she might have raised the country's profile as a wedding venue, truth be told, she jumped on an already runaway bandwagon. Couples have been coming to Scotland to tie the knot for hundreds of years. When England repealed the law that gave any citizen the right to perform a marriage ceremony, eloping couples trooped across the border to Gretna Green in their droves. It was a popular destination for underage couples and determined aristocrats. Writer and colonial reformer Edward Gibbon Wakefield abducted a 15-year-old heiress and tricked her into marrying him at Gretna in 1826, while there would be no Marquis of Queensberry and no Queensberry rules for boxing if his father Lord Archibald Drumlanrig had not married at Gretna.
It wasn't until 1940 in Scotland that the law was changed so anyone getting married had to have the ceremony conducted by a minister of religion or a civil marriage celebrant. Even today for young English couples wanting to get married, Scotland is often their only option with 18 being the minimum age of consent in England, 16 in Scotland.
There is also no requirement for residency north of the border, although it is compulsory to give a minimum of 15 days' notice of the wedding to allow for any objections. This makes Scotland ideal for overseas couples wanting to jet in and out for the ceremony. However if you do marry abroad, depending on where you live, there is often a requirement to register the wedding in your country of residence otherwise it isn't regarded as legal.
Although in general there are fewer obstacles now to getting married than ever before, it hasn't lessened Gretna's popularity. In 2000 it accounted for just over 17 per cent of all marriages in Scotland. For many it still contains an element of secrecy and escape and is the only place in the world where you can say your vows over an anvil.
After the anvil is struck the couple kiss across it as man and wife then step outside for their first kiss before the world, under the Kissing Gate. The arched gate is framed with horse shoes, pointing the right way to keep the luck in – another Gretna tradition that has stood the test of time. Gretna attracts people of all ages from around the world and all walks of life, from film stars to golfers and footballers.
Recent changes to the law in Scotland mean you can get married virtually anywhere that takes your fancy as long as it doesn't compromise the solemnity and dignity of the occasion. Civil weddings are no longer restricted to registry offices which leaves plenty of scope. The only stipulation is that the location must have a grid reference which means if you choose to get married on anything that moves, such as a boat, plane, train, car or bus, you must be stationary for the actual ceremony. This is also worth bearing in mind for outdoor locations. If there's a sudden downpour you can't suddenly change venues from the one stipulated on the wedding licence so make sure there is somewhere undercover nearby if the heavens suddenly open.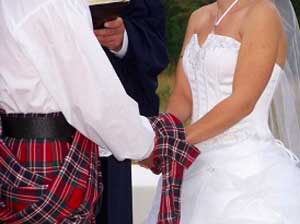 When it comes to romance, nothing beats a castle for that highly charged atmosphere of history and occasion. Not surprisingly, castles are the most popular venues for weddings and Scotland has them in abundance. They come in a variety of sizes and locations which makes it relatively easy to find one to suit your desires and budget. At the top end of the market, Skibo Castle in Sutherland offers the ultimate taste of paradise and is indeed 'heaven on earth'.

Slightly cheaper and more accessible, Edinburgh and Stirling Castles are proving to be incredibly popular since Historic Scotland opened them up to the public for weddings about a year ago. Edinburgh Castle, in the heart of Scotland's capital, commands spectacular views across the city to the Firth of Forth and Fife beyond. However, much as Edinburghers will disagree, it's generally thought that Stirling is the grandest castle as home to successive Scottish Kings and the scene of Mary Queen of Scots' coronation. The recently refurbished Great Hall is ideal for a large weddings of up to 300 people while the Queen's Guard Chamber or the King's Presence Chamber are ideal for smaller events.
Other places within 15 minutes of Edinburgh airport include Dundas Castle with its wonderfully well-preserved Auld Keep which dates back to the 15th century and Hopetoun House with its elegant state apartments, ballroom and stables designed by William Adam. A bit further afield in Ayrshire, the heart of Burns country, another Adam masterpiece, Culzean Castle is a special place, particularly for Americans. After WWII the whole of the second floor of this clifftop castle was given to President Eisenhower by the people of Scotland as a thank-you to the USA for its part in the war. This suite of six bedrooms is now run like a country house hotel and is the only castle in the National Trust for Scotland's portfolio that offers accommodation.
Duns Castle in the Borders, where Liverpool footballer Robbie Fowler tied the knot, offers a fairytale setting complete with horse-drawn carriage and fireworks while Cameron House Hotel on the shores of Loch Lomond was where Robert Carlyle was married.
Eilean Donan Castle is the most photographed castle in Scotland and has provided a stunning backdrop for many movies including Highlander and Entrapment. Just outside Kyle on the west coast where three sea lochs meet, Eilean Donan – Island of Donan and seat of the Clan MacRae – stands on a rocky island with the only access via the stone footbridge. What could be more romantic?
The movies Rob Roy and Braveheart have also influenced many weddings, not just in terms of choosing a romantic location in Scotland. Many couples use the music from Braveheart while the ancient Celtic wedding ceremony has been embraced by incurable romantics. The tying of the knot or hand-fasting ceremony was a sort of unofficial engagement. Couples tied a loose cord around their hands and if within a year they decided to make it official, crossed their arms and tied both ends in a knot. Popular locations for this traditional ceremony include forests and stone circles, all you need is the agreement of the local registrar.
It is possible to find equally stunning venues at a more affordable price. Delgatie Castle by Turriff for instance, like many castles in Scotland, has its own private chapel; Carbisdale Castle, one of the world's most luxurious youth hostels, sits atop high cliffs in Sutherland, and Candacraig registry office has a delightful Victorian Gothic folly in the garden. The gardens of castles and large country houses can also provide a dazzling backdrop for wedding photos with Borthwick, Craithes and Edzell Castles and the Winter Gardens in Aberdeen's Duthie Park among the most beautiful. The gardens at Inverewe, and the Royal Botanical Gardens in Edinburgh also provide a colourful setting.
Wherever you choose to get married in Scotland, one thing is certain, it will be the beginning of a long-term affair with a country that is synonymous with love, beauty and, of course, romance.
Don't forget the sprig of white heather in the chapel for good luck
For more information on the paperwork and to get an idea of marriage locations you can visit the website of the General Register Office