When I Travel Scotland I never leave home without my Two favourite guide books of Scotland, these two books together provide me with all the information i need when on holiday in Scotland. Wherever I am I always find the information I need from these two books, why two books? well one of the books is one I have always used and the other is a new addition to my collection that I just cant put down. Both are worth purchasing and each one has its own way to describe how to tour Scotland. Discover how to tour Scotland with ease with these well written books, and you will wonder how you ever got by without them.
Scotland the Best
Some people rate this book as the best Scottish tour guide book of them all, and you can't help thinking they are correct. Written by Peter Irvine this excellent book is worth every penny you pay, said to be the only tour book that the Scots buy themselves, and won awards from the Tourist Industry, this book is becoming one of the best tour guides in modern times, and is recommended by tour guides all over Scotland.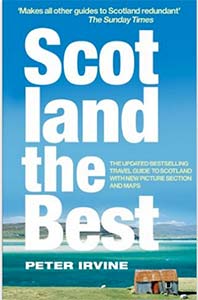 Peter Irvine written this book guiding you through Scotland's great country, giving you information on the best places to stay, and where to buy the best of anything, from Sea-food, Ice Cream and anything you may need on your Holidays in Scotland. You will find info on where the best beaches in Scotland are or where the best hill walks start from, how to keep your kids occupied on holiday where the best attractions.
Throughout this book everything has been assessed to ensure the information you get is correct and detailed, with fantastic pictures and clear detailed coloured maps from Collins, making everything easy to read and understand. The whole structure and layout of the book is fantastic.
Reviewed in the Sunday Times claiming 'Makes all other guides to Scotland redundant' you basically can't go wrong with this tour book. In 2000 Peter Irvine was given a Thistle Award for his contribution to Scottish Tourism, and in 2002 gained another Thistle award. This proves that this book provides you with the best information you can get about touring Scotland, and there is no one better to guide you through this idyllic land than Peter. Buy this book and it will stay with you for life. Buy on Amazon
The Rough Guide to Scotland
The Rough Guide to Scotland is possibly one of the best Scottish tour guides around providing you with a vast amount of information and a very detailed coverage of this stunning and beautiful country. The book gives you plenty of info for things to do in Scotland, with guides on the best attractions and in depth information about Scotland's Cities Glasgow and Edinburgh.
Covering all areas of Scotland you have detailed descriptions and information from Southern Scotland, The Highlands and Islands of this stunning country. The Rough Guide to Scotland gives you advice on visiting Scotland and how to get about on your travels, also you will find detailed reviews of the best Hotels in Scotland, B&B's, pubs and restaurants. Find everything you need to know about wildlife in Scotland with information like where is the best place to spot Dolphins in Scotland to where you can fish the best rivers, with full colour pictures and detailed maps the Rough Guide to Scotland gives you everything thing you need to travel Scotland.
This book has enough to keep you amused on long travels or nights in a hotel room planning your next trip in Scotland, or looking for your next accommodation in Scotland, read about the fabulous Scottish History and architecture, or find information on the quaint Scottish villages you will be visiting on your Holiday in Scotland. The Rough Guide to Scotland is a very detailed book and always stays in my car on my tours to Scotland, definitely a book I will always have. Buy on Amazon
More Scotland Guides
Of course you don't have to agree with our choice of Best Guide Books of Scotland. For many more interesting titles please visit this link