Scotland has its own to offer when it comes to a lot of things. Be it the Scottish highlands, its history, the exotic wildlife, the culture and so much more. This richness is hence carried forward to Scotland's culinary heritage as well. After all, this is the land known for its rough and earthy food, the flavoursome and so very nostalgic dishes as well as some bizarre and very unhealthy snacks such as the deep fried mars bar.
Scotland is best known for its malt whisky and haggis. While most people like malt whisky, it is a different story with haggis, as it has the same reputation as Marmite; you either love or hate it. There are many more traditional dishes that are popular in Scotland and suit a wide range of tastes. This article will explore these, so that the next time you are here you know what you can expect when you order Kedgeree for breakfast or Cullen Skink for dinner.
Haggis, Neeps and Tatties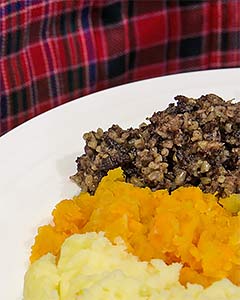 Before going into the lesser known dishes, we should really start with the most controversial Scottish dish; Haggis. Haggis is a 'legendary' creature that lives in the Highlands, but also a very tasty dish if done properly and you can get past the interesting ingredients. This is a rather savory meal and, according to folklore, it was first made for the purpose of feeding the cattle drovers. They mostly used to travel over the glens to Edinburgh and feed on the Haggis.
Now what is this Haggis? It is a traditional Scottish pudding, or sausage, made from a sheep's stomach stuffed with diced sheep's liver, lungs and heart, oatmeal, onion, suet and seasoning. This dish is best served with 'neeps' (turnips), 'tatties' (mashed potato) and a dram. This dish is traditionally served at Burns Night
Ginger Cake
Best served with warm custard, chilled cream or a strong cup of tea, ginger cake is best after a light meal. This cake is made from stemmed ginger, mixed peel, sultanas, oatmeal, eggs golden or treacle syrup.
Clootie Dumpling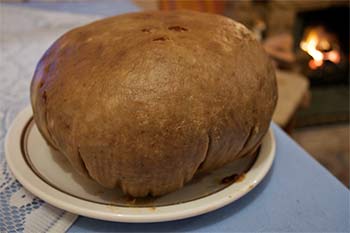 Clootie Dumpling is great for warming the cockles on those brisk, cold days and evenings. It is made from flour, breadcrumbs, dried fruit, suet, sugar, spice and finally milk to bind the ingredients together. It is then left to simmer in a large pan of boiling water, inside a cloth, and then dried in front of a fire or inside an oven. image by Diádoco
Cock-A-Leekie Soup
Traditionally prepared with chicken, onions and stock, 'cock-a-leekie' is great as a starter before a large meal or as a main at lunch time. Serve with a crusty roll or croutons and you have a great dish that ticks all the boxes.
Scotch Egg
A scotch egg is a great accompaniment to any picnic. Simply wrap a hard-boiled egg with sausage meat and breadcrumbs (if you are cooking for a vegetarian or vegan leave the sausage meat out), and fry before serving.
Skirlie
Oatmeal is the base ingredient for Skirlie which can be used as a turkey or chicken stuffing and as a side dish. It's often served together with Mince and Tatties. When you make Skirlie the oats have to be skirled in the pan, hence the name.
Cullen Skink Soup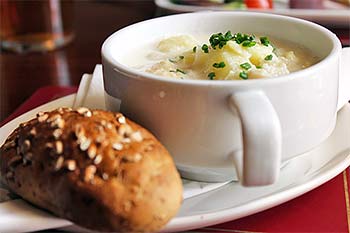 As the name suggests this soup comes from Cullen and is most popular on the Northeastern Coast. This traditional soup is prepared using potatoes, onions, haddock and is relatively easy to make.
Aberdeen Angus Beef
For all you meat lovers out there you have to try Aberdeen Angus beef! Whether you serve it alongside 'tatties' or in a stew, this meat is truly scrumptious! The meat comes from a special breed of cattle, which is reared in Angus and Aberdeen, hence the name.
Cranachan
This particular food item is a traditional one and is mostly served around summer and harvest time. Actually this is what you'd effectively call a rich and delicious Scottish dessert. It consists of raspberries topped on a concoction of cream, honey, toasted oatmeal and whisky.
Deep-fried mars bar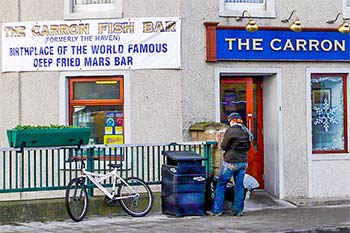 Now, if you're a foodie with some naughty taste buds and seeking a different flavor altogether on your holiday, then the deep-fried mars bars is definitely worth a try. This calorific gourmet wonder is bound to plunge your gastronomic senses deep into the Scottish fervor. The deep-fried mars bar is a rather new addition and was introduced in the 1990s by the Carron fish shop in Stonehaven. See image by Taras, wikimedia.
Kedgeree
If you're looking for the ideal way to start your day, then nothing beats the traditional Scottish kedgeree. The history of this particular meal is long and interesting. It's believed that this meal had been adapted from India by none other than the British colonials. These colonials had chanced upon it when they'd been living there during the British Rule. This item is essentially made up of flaked fish mostly haddock, eggs, parsley, cream, curry powdered rice and sultanas. This is in fact the perfect breakfast and it could actually keep you going all the way until supper.
Other Scottish Food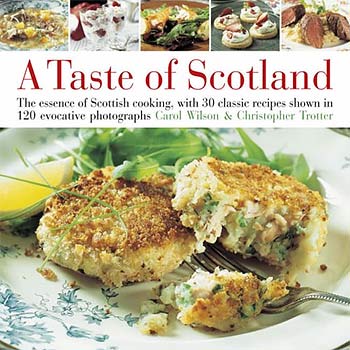 The above was merely a small listing of some of Scotland's most known dishes. If you visit us you'll soon discover more traditional Scottish food such as porridge, shortbread, scone's, tablet, game, fish and seafood and much more.
Scottish Recipes
There are several books about Scottish Food and recipes. Well recommended is the book titled "The Best Of Traditional Scottish Cooking: More Than 60 Classic Step-By-Step Recipes From The Varied Regions Of Scotland" ( view on amazon ) and the book titled "taste of Scotland: The essence of Scottish cooking, with 30 classic recipes shown in 150 evocative photographs" ( View on Amazon ). Both books will give you an insight in the Scottish kitchen and will provide enough recipes to enjoy your favourite Scottish dish at home, providing of course you can get the ingredients. Enjoy!