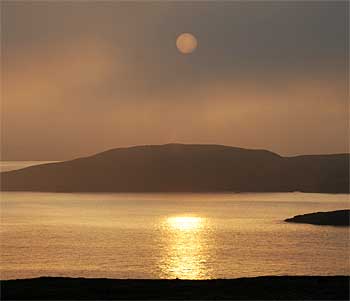 If there is one Loch in Scotland that has a somewhat unusual history it's probably Loch Ewe. Why? Loch Ewe played an important part in WW2, it was a Convoy Collecting Point for the Arctic convoys to Russia. During that time Loch Ewe was protected by light and heavy anti aircraft guns, the remains of these gun emplacements and other buildings are still present and dotted around the Loch.
For some the history of this Loch is reason enough for a visit but for most it's the sheer beauty of the place. Loch Ewe and surrounding area is a stunningly beautiful part of Wester Ross. There are lovely wee villages and you will find magnificent scenery, plenty of opportunities for short and long walks and cycling, an abundance in wildlife such as otters and sea eagles and many other things to see and do. My wife and I visited Loch Ewe many times over the last ten years and the length and number of our visits are increasing.
Just after our Autumn visit in 2011 I was contacted by long-time Poolewe resident Tracy McLachlan after she had found my Loch Ewe webpage. Tracy almost single-handedly started up a new visitor centre in the Village Hall on the seafront at Poolewe, to promote Loch Ewe and the surrounding area. The new visitor centre will open on the 26th of March but the website is already live and packed with information about the area.
Make sure though not to miss the visitor centre itself when you're in the area. I understand from Tracy that the centre will provide lots of practical information, accommodation tips, guides, leaflets, maps etc. to get the most out of your visit in this magnificent part of Scotland.