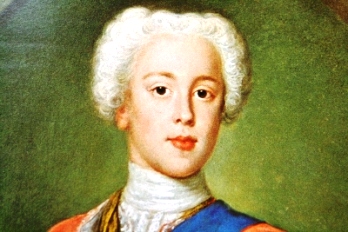 Charles Edward Stuart better known as Bonnie Prince Charlie Landed in mainland Scotland in 1745 at Loch nan Uamh on the Western coast not to far from Glenfinnan where he was about to start his adventures as part of the Jacobite rebellion.
Loch nan Uamh today is viewed from the road to the isles that travels from Fort William to Mallaig winding and twisting between magnificent scenery and glorious white sand beaches. Along this road is also the Glenfinnan monument that marks the place where Bonnie Prince Charlie waited for a number of days to gather his support for the rebellion to start that finally ended eight months later at the battle of Culloden. At Glenfinnan he was joined by the McDonalds, Mcphees and the Camerons where he then raised the standard on 19th August 1745 in the name of his father The Old Pretender James Stuart.
In 1815 when the Jacobite rebellion was no longer a threat to the government a monument was built at Glenfinnan of a dominating tower on the banks of Loch Sheil with a lone Highland dressed figure standing proudly on its summit, this area today is visited each year by Bonnie Prince Charlie enthusiast.
Glenfinnan Monument
Adjacent to the Glenfinnan Monument is the now very famous Glenfinnan viaduct, now popular due to the Harry Potter films, where the Jacobite steam train was used for the Hogwarts Express. Built between 1897 to 1901 sporting 21 arches and standing 100 feet its curves itself around the valley giving passengers one of the most beautiful train journeys in the world.

After the battle of Culloden the young pretender escaped from the battle unscathed and a very large reward of Thirty Thousand pound was offered for the capture of the prince. Months of evading troops and hiding then followed for Charles where his loyal supporters offered him shelter and food, he travelled through many remote areas including Glen Affric and east to Loch Ericht close to Rannoch Moor. He then eventually returned to where he first landed at Loch Nan Uamh and then boarded a French Frigate where he eventually escaped. The Princes Cairn marks the spot today where the prince departed.