Culzean Castle in Ayrshire boasts two amazing adventure playgrounds for kids of all ages and this autumn there will be a few fantastic events for children, both for the young ones, and for the 12+ aged kids during Halloween.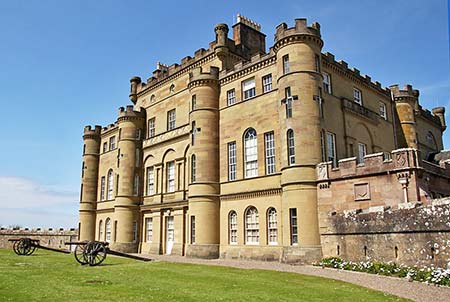 Sat 14th & Sun 15th September from 11:00-16:00 is the Pirates & Smugglers Weekend, location Swan Pond. Learn how to become a pirate by taking on many swashbuckling challenges. Walk the plank, dig for treasure, pin the patch on the pirate and create your very own treasure map are just some of the challenges you'll undertake. Visit the storytelling tent to learn all about Culzean's smuggling history. Meet Captain Jack Sparrow and be sure to impress him by wearing your own swashbuckling costume! Prizes for best dressed each day!
Price £5 per child. (Standard country park admission fees apply). More info and Online Booking
Saturday 5th & Sunday 6th October from 11:00-16:00 sees the On Yer Bike event which will be held in the Country Park at the Home Farm & Events Field. Bring your bike, trike or even unicycle and join us for a weekend dedicated to pedal power! Explore the Country park in a new way with our car free zones.
With cycle trail maps, led cycle safaris, Dr Bike health checks, cycle orienteering course, smoothie bike, stalls, talks and more there will be plenty to keep the whole family entertained!
FABB Scotland will be running All Ability Bike Sessions; There will be a range of all ability bikes such as hand cycles, trikes, and wheelchair tandems. Adult, Children and Electric bikes available to hire (limited availability). For more info visit www.nts.org.uk
At Halloween, Wednesday 30th & Thursday 31st October, there is a special event for the older kids from age 12+ (under 16's must be accompanied by an adult). It's titled The Haunted Castle and there will be 9 Time Slots, at 18:00 18:20 18:40 19:10 19:30 19:50 20:20 20:40 21:00. 20 people per time slot.
On this terrifying after dark tour, who knows what spirits and spectres await? Avoid a creeping creature and meet the unhinged ghosts of his previous victims. See if you have the cunning and bravery to survive being hunted by the beast known as 'Rebreather'. A bowl of soup, tea or coffee will be your reward… if you make it out alive. Check in Stone Barn then onto Castle. Price £18.50. More info and booking via www.nts.org.uk
Exclusive VIP Package – Enjoy an extra thrilling evening at Culzean's Haunted Castle. VIP Package includes an overnight stay in the Eisenhower Hotel with breakfast, a 3 course meal with a glass of wine in Culzean's Fo'c'sle Restaurant followed by the Haunted Tour. Check in 2pm, dinner served at 7pm followed by tour at 9pm. £200.00 per room (2 people per room). *Rooms are sold on a first come first served basis. To Book VIP package call 01655 884455.