This south-west facing coastline in Assynt, in the north-west of Scotland, between the fishing village of Lochinver in the south and Stoer Lighthouse in the north, is without a doubt one of the most beautiful parts of Scotland, and there are many competing for that title. With the right kind of weather, for me sunshine and blue skies, it feels like you're in the meds. The beaches are sandy and clean, the turquoise and blue of the sea are incredible and the entire area breathes a calm relaxing atmosphere. No surprise this is a well visited part of the country and a much beloved detour for campervans and motorhomes heading north to Durness and further afield. No wonder that the Ultimate Coastal Route and North Coast 500 included this in their route.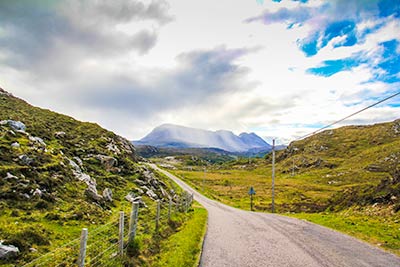 A word of warning though, the stretch of single track road from Lochinver to Clachtoll, Stoer, Drumbeg and back to the main road, the A835, is not an easy one to drive. Especially first time motorhome drivers must make sure to be confident on this narrow and winding single track road, rather avoid it if you're not! We have a guide on driving single track roads for more info.
There is an abundance of flora and fauna in the area. Basking shark, Minke whale and Dolphins can be seen out at sea and closer to the coast Otters, Black throated divers, ringed plovers and harbour porpoise can be spotted.
The village of Lochinver
Lochinver is a pretty village and the largest settlement between Ullapool in the South and Durness in the North. The harbour of Lochinver, which was a herring port in the old days, is now one of the busiest harbours of the Highland's where trawlers and creel boats land their catch. The heart of Lochinver is the main street running along the eastern end of Loch Inver. Here you'll find the main shops, a petrol station, playpark for the kids, post office, supermarket and a few cafes and restaurants.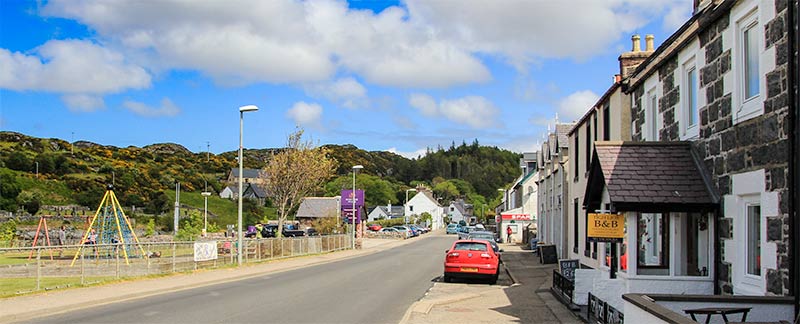 The huge fish market is probably the town's main focus while Highland Stoneware, half a mile outside the village, is one of the Highlands's best known potteries. Visitors are always welcome here. For more info visit www.highlandstoneware.com
Another interesting attraction is the Lochinver Craft & Produce Market "Made In Assynt" which is held in Lochinver Village Hall from 10am to 4pm. They showcase talented artists and crafts people, from Assynt and the surrounding area, and provide access to a fine selection of locally grown and produced food. For dates and more info visit www.madeinassynt.co.uk
Achmelvich Beach
Three miles to the north-west, down from the B869 coastal road, loes Achmelvich Beach. This is one of the beaches I was referring to in the opening paragraph of this page. It's truly a magnificent white sandy beach, a tropical delight, in the right kind of weather of course. And perhaps a great place to contemplate or to blow away the cobwebs in other kind of weathers. Take your pick, as weather does tend to change fast around here. Achmelvich Beach is the largest beach and dotted along this rocky coastline are more beautiful albeit smaller beaches.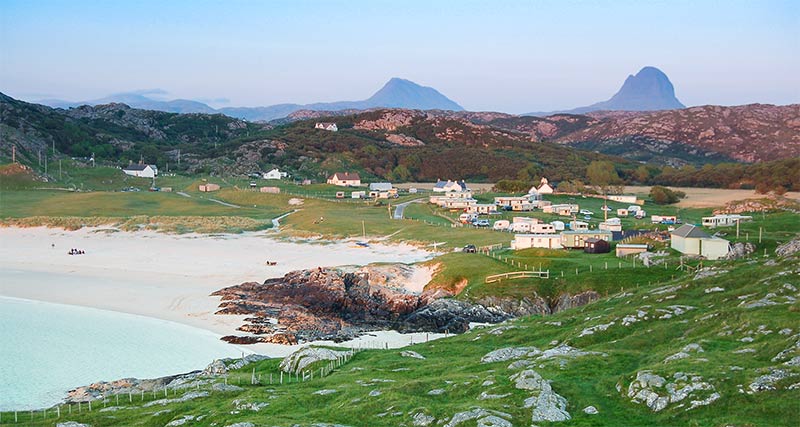 Achmelvich itself is not really a village or settlement, its main feature is of course the beach backed by the Youth Hostel, Campsite and one of the most impressive mountains in this part of Scotland, Suilven.
Clachtoll and Stoer
What goes for Achmelvich Beach goes for Clachtoll as well. A beautiful sandy beach backed by a rather large yet excellent campsite which is also suitable for campervans and motorhomes. The nearby settlement of Stoer, perhaps better referred to as a very small village, has around 15 houses and crofts scattered over the landscape. A little further toward the north-west, on your left, is a single track road that leads to Stoer Point and Lighthouse.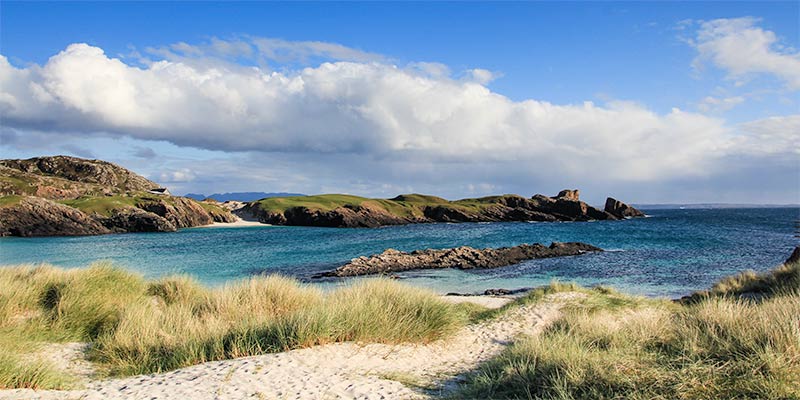 Stoer Head Lighthouse
Very little has been written about the history of Stoer Head Lighthouse. It wasn't until 1853 that regular wreck returns were kept and figures for 1859-66 showed that an average of 24 vessels a year were stranded on sands and rocks around the Scottish coast.

Alan and Thomas Stevenson had now taken over as engineers for the Northern Lighthouse Board and they prepared a list of 45 possible sites thought to be desirable to complete a system of lights for the coast of Scotland, Stoer Head was included in this list. But it was not until 1870 that the light marking the headland of the Point of Stoer
was finally built. Although the lighthouse is relatively short, only 14 metres high, its elevation above sea level is 54 metres and great care should be taken when walking in the vicinity of the light.
Walk to Old man of Stoer
There is beautiful scenery on a lovely walk from Stoer lighthouse around the coastline to the Old Man of Stoer and beyond. The Old Man of Stoer is a 60 metres tall sandstone pillar, sea stack, north of Stoer Lighthouse. If you are a keen birdwatcher there are lots of birds to see and if you keep your eyes on the sea you might see some wildlife there too, such as Dolphins or Porpoise. There is a free car park below the lighthouse where there's a snack van too.
Map of Lochinver, Achmelvich and Stoer
image of achmelvich by mr raikage, cc commons