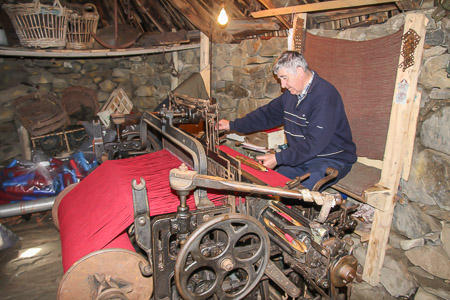 Some fabrics like cotton never really go in and out of fashion, and form the basis of most of the items in our wardrobe. Other fabrics like velvet or linen come and go with the seasons; you'd be hard pressed to find linen trousers in November or a velvet dress in June. Then there is the third category of fabrics which aren't achingly trendy, but are an integral part of our style and way of life. One of the best known of these types of fabric is Harris Tweed.
Harris Tweed Protected Name
There are many different sorts of tweeds as the name just refers to the way in which the cloth is woven and the woollen fibres which are used. Harris Tweed however is one of those names with protected status. Just as champagne has to come from a certain area of France and a Cornish Pasty has to come from Cornwall, Harris Tweed can only be woven on the Outer Hebridean islands of Lewis, Harris, Uist and Barra. Most tweed is woven by small independent companies or by people working at home on a loom in their spare room or shed. The Harris Tweed Authority check that the original Tweed is "Handwoven by the islanders at their homes in the Outer Hebrides, finished in the Outer Hebrides, and made from pure virgin wool dyed and spun in the Outer Hebrides."
Colours and Style
The traditional look of Harris Tweed is quite dull and boring. Originally the weavers had to work with the natural dyes which were available in the islands, so used seaweed or lichen to produce tweeds in shades of brown, green or grey. These sorts of coloured tweeds are still used today in traditional men's suits or in a formal ladies show jacket for equestrian competitions. However, Harris Tweed is being brought rapidly into the 21st century by a new breed of Scottish textiles companies who are producing tweeds in vibrant shades of lime green, cobalt blue or magenta.
Uses
Tweed is a hard-wearing, warm fabric and is most associated with outdoor clothing such as suits, jackets or heavy overcoats. Pure wool of the sort used to make tweed is quite harsh and scratchy, and it is therefore not often used to make items which sit next to the skin. Tweed is also used in upholstery on armchairs or sofas, and other modern uses include bags, purses, belts and jewellery such as corsages. The uses of tweed are really only limited to the imagination of the textile designer or the seamstress who is creating the outfit. Nike brought the use of Harris Tweed to the mass market in 2004 when it created a range of trainers which had tweed inserts.
Independent Producers
The Harris Tweed Authority write on their website: "Perhaps the most crucial part of the Harris Tweed process, weavers are the skilled artisans that turn the woollen yarn into the big cloth that becomes Harris Tweed. Skills are passed on from generation to generation, old to young, through formal and informal training, the skills taking months to transfer and many years to master. Weavers can work in partnership with the mills to meet a multitude of challenging orders for international markets or independently on custom and bespoke commissions for private clients. A number of weavers now work solely on their own allowing small, unusual and personalised patterns to be produced to very specific customer demands." These website and producers can be found here
Buying Harris Tweed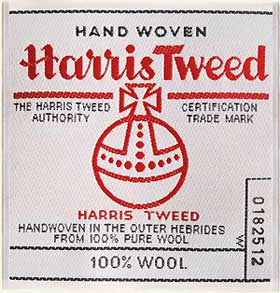 For the non-expert eye, it can be almost impossible to distinguish between genuine Harris tweed and cheaper alternatives which are often imported from overseas. All genuine Harris tweed will carry the approved logo, which is a round orb with a cross on the top, and the words "Hand woven Harris Tweed" above. The standard retail price for the fabric is around £30 per metre, so quality costs. One of the best ways to get a truly individual ladies show jacket, suit or other item is to buy the fabric and either make the item yourself or ask a seamstress to make it for you.
original article by Morag Peers – image of tying tweed by Callicvol, cc license 2.0