The History of Dunrobin Castle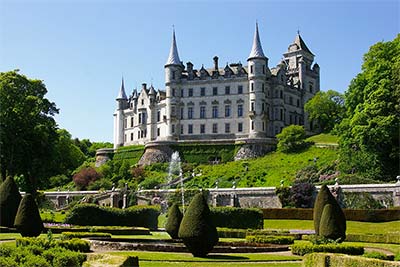 Since the 13th century, the stunning Dunrobin Castle  has played host to the many Earls and Dukes of Sutherland, before being called home by a family in 1401. The Sutherland Earldom is typically regarded as one of the most powerful in Britain, and was established in 1235. It is thought the castle was built specifically for the Earldom in the same year, and was given the name Dun Robin which means Robin's Hill or Fort in Gaelic.
The initial castle was a fortified, square keep, with six-feet thick walls and vaulted ceiling, with a view from a cliff-top position. The original keep remained stood for around 200 years before a staircase and high house were added to the premises. In 1785 an extension was also constructed on the property. However the early keep remains standing, though altered, making it one of the oldest inhabited houses in Scotland.
Dunrobin Castle today
At present the castle remains perched on a terrace above glorious walled gardens, with traditional spires and turrets to boot. It overlooks the North Sea, although it is also overlooked by the Sutherland Monument on Ben Bhraggie. The gardens  – established in 1850 by architect Sir Charles Barry – initially took their inspiration from the Palace of Versailles in Paris and have remained true to their roots across their life, which is now in excess of 150 years. New plants are frequently introduced to the gardens each year, helping them to maintain their traditional look but with a modern twist. The gardens also provide the cut flowers for the displays throughout the castle grounds, making the property a self-sufficient one.
These days, the castle also boasts a dedicated Dunrobin museum in the former summer house of William, Earl of Sutherland. The museum plays host to a range of artefacts, including the heads of animals shot by the family whilst on safari, alongside a collection of archaeological relics. The castle tour also allows guests to view the building's mass of rooms, including the dining room, music room, library, ladies' sitting room and the seamstress's room, amongst others.
Guests to the castle can also enjoy twice daily falconry displays, which show the castle's birds of prey in action on the Castle lawn. Falconry is the ancient art of hunting with birds of prey, and the show is guaranteed to impress both children and adults alike. Amongst the species showcased in the display are golden eagles and peregrine falcons, both of which are resident birds in the Scottish Highlands. Professional resident Falconer Andy Hughes leads the demonstration, whilst also explaining the hunting methods used by the different birds. Visitors are also able to participate in the display along with having their photos taken with the castle's aviary inhabitants.
Dunrobin Castle offers an all-round interesting trip, whether your interests lie in gardening, upper class history or animal life. Adults and children alike will always find something to observe and enjoy.
Image courtesy of Paul Wordingham, License: Creative Commons