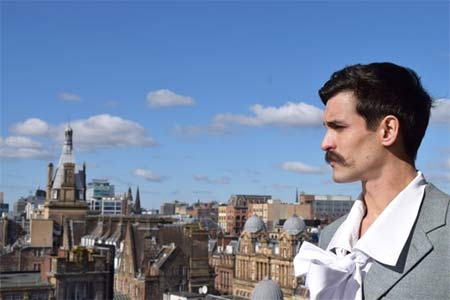 As a regular visitor of Glasgow I very much anticipated a visit to the Glasgow School of Art which was due to re-open in 2019 after a devastating fire in 2014. Millions of pounds have been invested to get this iconic masterpiece back to its original standings. The fire in 2014 was a nightmare for the people of Glasgow and fans the world over. For those who don't know him, Charles Rennie Mackintosh is Scotland's most celebrated architect and designer of the 20th century. His work and legacy is celebrated across Glasgow, where he left a beautiful and lasting mark on the city. A quote from the VisitScotland website:
The Glasgow Style

The Glasgow School of Art became the centre of an art movement in Scotland, and quickly earned its stellar reputation for architecture, art and design. The 'Glasgow Style' was created by Mackintosh and his contemporaries – Herbert MacNair and two sisters, Margaret and Frances MacDonald. They met as students during the 1890s and became known as 'the Four' exhibiting their work across the world. From exquisite pieces of furniture in museums to a graceful building in a city park, these simple and stylish Art Nouveau designs became iconic and can still be seen all around Glasgow.
Charles Rennie Mackintish 150th Anniversary
It was only 11 days ago that it was the official 150th Anniversary of Charles Rennie Mackintosh. Jim Clarkson, VisitScotland Director said: "As an artist, architect, designer and father of 'The Glasgow Style', Mackintosh is now widely regarded as Scotland's foremost creative talent, and he left a magnificent legacy for our cultural heritage – and tourism." To celebrate his anniversary a fascinating mural was unveiled in Glasgow, see the embedded tweet below:
A fabulous giant mural of Charles Rennie Mackintosh was unveiled today beside @cluthavictoria as part of #Mackintosh150 The striking piece of street art was commissioned by @RadissonRed and has been designed and created by @artpistol and @rogueoneglasgow pic.twitter.com/aicRuFxo5B

— Stuart Robertson (@crmsociety) June 15, 2018
Another Devastating Fire
What was supposed to be a good year for Charles Rennie Mackintosh fans the world over, it turned out to be one of the biggest dramas the city of Glasgow has seen in recent years. Last Saturday night around 11pm the Glasgow School of Art caught fire again and this time it turned out to be a lot more devastating as the one in 2014. It was heartbreaking to see the drama unfold as flames were shooting up into the sky giving the area an orange glow. The entire interior seems to be in ashes and there is hardly anything left of the building other than a black facade. Luckily nobody got hurt! At this moment it is not known if the building can be restored and if it will, it will probably cost a lot more than the previous reconstruction. Many people are angry and wonder why on earth this could happen twice in four years time. It's a sad time for fans of Charles Rennie Mackintosh and for the people of Glasgow who care deeply for their famous son and his School of Art Building lovingly referred to as the "Mack".
"It's devastating… heartbreaking": People in Glasgow react to the devastating fire at the iconic School of Art

Latest: https://t.co/iOnZogDNKg pic.twitter.com/7ncZeiCSDn

— BBC News (UK) (@BBCNews) June 16, 2018